Where to Celebrate Bastille Day in Baltimore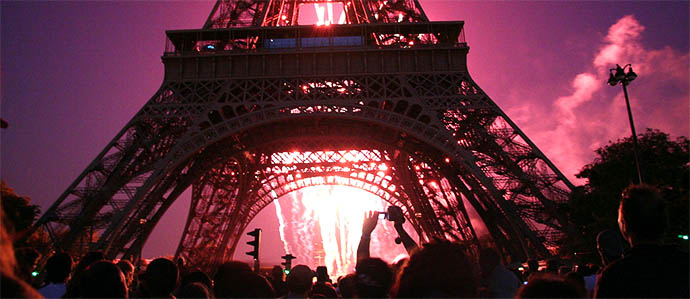 Much like the United State's Independence Day, Bastille Day celebrates the tenacity and perseverance of the country's people in order to gain freedom. The French showed their true colors (also red, white and blue, incidentally, when it comes to the flag) when they stormed the Bastille fortress-prison in 1789, overthrowing the government and freeing prisoners. In addition to having the same moxy as Americans in that time, the French also prefer to celebrate contemporarily the same way we do, with fireworks, parades, food and, of course, drinks.
While it may be hard to track down fireworks and parades in Baltimore for Bastille Day on July 14, we can definitely recommend where to find some of the best French eats and drinks in Charm City, and even a few pretty amazing parties no one will want to miss. Vive la France!
Petit Louis Bistro (4800 Roland Ave.; 410-366-9393)
Each year, Bastille Day is a big deal for the beloved local French bistro, Petit Louis. Chef/Owner Cindy Wolf and sommelier Tony Foreman will be throwing quite the fete for the holiday. From 5 to 10 p.m., expect to enjoy classic French dishes and a selection of the best French wine. As though that isn't enough, be prepared to don the mustaches and blue berets that will be on hand for all diners and drinkers that night. If celebrating with classic food and drink in an adorably fun atmosphere is what you're looking for, book your reservation quickly before they fill up.
The French Kitchen (20 West Baltimore St.; 410-539-8400)
This recent newcomer to the Baltimore dining scene is located in the newly renovated Lord Baltimore Hotel in downtown Baltimore. Already met with great reviews in the several months since its opening, this classic French restaurant is offering one of the classiest Bastille Day celebrations in Baltimore. Celebrating a day early on July 13, The French Kitchen is offering tickets for their event which begins with bubbly and appetizers on the roof before a classic five course French meal with wine pairings. Tickets are $95 and can be purchased by calling the restaurant or front desk of the Lord Baltimore Hotel.
Le Garage Beer Bar and Frites (911 West 36th Street; 410-243-6300)
New to Hampden, Le Garage is a casual joint with a French flare. While we haven't seen any Bastille Day "specials" listed for this cozy joint paying homage to French fare in an approachable way, we are pretty sure that any visit here is going to be special, regardless. The beer list is a thoughtful array of French, Belgian, and local craft brews and the wine list is unmistakably French. Cocktails are classy and we think that any of these libations pair nicely with the frites and their many dipping sauces, tartines, or cheese courses.
Crepe du Jour (1609 Sulgrave Ave; 410-542-9000)
Is there anything more French than crepes? With wine? We think not. Julia Child may have even agreed with us on this one in her day. That said, Crepe du Jour is absolutely the place to celebrate Bastille Day if you are a crepe lover. But if you're a wine lover? You're even more in luck. Crepe du Jour has, at last count, at least 29 wines by the glass, including sparkling, rose, white and red. Not to mention, any restaurant who lists a Kir Royal on the menu is clearly as French as it gets.
Marie Louise Bistro (904 N. Charles St.; 410-385-9946)
Marie Louise Bistro is a rare French find in Baltimore's Mt. Vernon community. The fare is classic with a little fusion, and the wine list is good. But we can't help but hone in on the fact that Bastille Day is on a Monday and Martini Night at Marie Louise Bistro is on… you guessed it! Mondays. The origin of the martini remains a debate, but what doesn't remain up for argument? That the French like their drinks (no matter the libation's original birthplace) and a good celebration, just like us. So grab some martinis and French food and get your Bastille Day soire started!
Ma Petite Shoe (832 West 36th St.; 410-235-3442)
This shoe store, chocolate shop, and cafe, cleverly named with a play on a popular French term of endearment (mon petite chou; translated: my little cabbage), is celebrating Bastille Day in style. The party starts on Saturday with a huge shoe sale that runs through the 14th. On Saturday the 13th, there will be a prix fixe Vegan Parisian Brunch and on Bastille Day itself there will be entertainers, group sing a longs, and, perhaps the most important part, complimentary French food and champagne from 6 - 9 p.m. Tickets for the events can be purchased at www.mapetiteshoe.com.
These are a few ideas for lighting up the night for Bastille Day. But even if you can't get to a French restaurant to enjoy some authentic French wine paired with decadent dishes, we suggest doing as the French do — find an al fresco table at a local cafe and enjoy a pint of beer or a glass (or bottle) of wine, and maybe some crusty baguettes and cheese. And if that's your plan? Check out a list of some our suggestions for the best places for outdoor drinking in Charm City.
Salut!
Tags:
Beer
,
Cocktails
,
Food
,
Holiday
,
Outdoor Seating
,
Spirits
,
Wine
Recent Articles

Feedback
How are we doing? Tell us what you like or don't like and how we can improve. We would love to hear your thoughts!