10 Bars in Baltimore to Enjoy Drinks in the Great Outdoors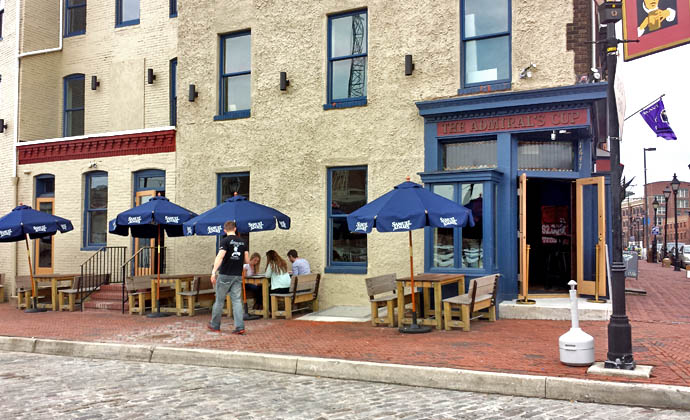 Now that spring seems to finally have made its way to Baltimore, the important question is: Where should we go to drink outside? Fear not! We have your answer. Here is a roundup of our top ten picks for enjoying libations outside as the weather gets warmer!

Canton Dockside (3301 Boston St #102; 410-276-8900)
Nothing says spring and summer in Baltimore like crabs and beer. Canton Dockside offers both, along with water views from its outdoor patio.

One Eyed Mike's (708 S Bond St.; 410-327-0445)
This popular Grand Marnier bar sneakily hides its outdoor seating in the back of the restaurant making it a great location to enjoy cocktails without the street noise that urban outdoor dining and drinking can bring.
Waterfront Kitchen (1417 Thames St.; 443-681-5310)
This upscale seed to table restaurant offers some of the best waterfront seating in the area on its expansive deck, right on the water at the edge of Fell's Point. Bonus: Waterfront Kitchen offers a brunch menu, so you can get your Sunday Funday started off right.

City Cafe (1001 Cathedral St.; 410-539-4252)
Located in Mt. Vernon, City Cafe is an award-winning mainstay in the area with an impressive list of signature and classic cocktails as well as a wide array of beer and wine choices.

Mama's on the Half Shell (2901 O'Donnell St.; 410-276-3160)
Nestled in one corner of Canton Square, Mama's is known for their seafood, but their drinks are equally delicious. Bonus: This outdoor seating offers some of the best weekend people watching in Baltimore while you suck on your Orange Crush or throw back some oyster shooters.

Wine Market (921 E Fort Ave.; 410-244-6166)
On Fort Avenue, the Wine Market offers a charming outdoor patio with lighting and foliage which serves as a beautiful backdrop for your evening of imbibing. Their cocktails are inventive and their shop offers a wide range of wine that you can purchase and enjoy at your cozy outdoor table.
Admiral's Cup (1647 Thames St.; 410-534-5555)
Right on the corner of Thames and Broadway, Admiral's Cup's outdoor seating overlooks the water in Fell's Point. Enjoy local beer, wine and cocktails and take in a lot of local flavor at this recently updated favorite in the area.
V-No (905 S Ann St.; 410-342-8466)
Situated right along the water in Historic Fell's Point, wine lovers can enjoy a glass, or share a bottle, of their favorite white or red and choose from an array of snacks or sandwiches from the menu.
Plug Ugly's Publick House (2908 O'Donnell St.; 410-563-8459)
This Canton gem located right on the Square in Canton has an upstairs deck where revelers can enjoy their Pirate Juice (the bar's specialty), or other beverages, while outside, but away from street level.
Nick's Fish House (2600 Insulator Dr.; 410-347-4123)
Tucked away just outside of Federal Hill, Nick's Fish House's expansive deck overlooking the water is the place to relax with some drinks on a warm afternoon or evening in Baltimore.
Photo: Jennifer Waldera
Tags:
Beer
,
Cocktails
,
Food
,
Outdoor Seating
,
Spirits
,
Wine
Recent Articles

Feedback
How are we doing? Tell us what you like or don't like and how we can improve. We would love to hear your thoughts!