Where to Go in Fells Point for a Girls Night Out
by
Jennifer Waldera
on May 12, 2014 in
Roundups
for
Ampersea
,
Bertha's
,
Get Down, The
,
Horse You Came In On Saloon, The
,
Max's Taphouse
,
One-Eyed Mike's
,
Rye
,
V-NO
,
Willow
,
Woody's Cantina
,
Ze Mean Bean Cafe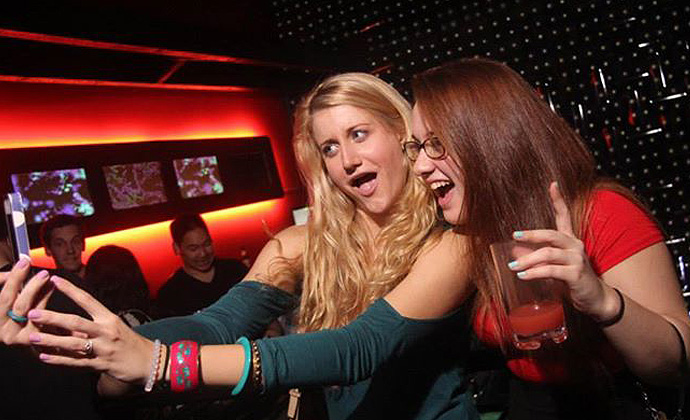 Now that the weather has turned, it's time for some al fresco activities, and is there any better way to celebrate the fine weather than to gather the ladies for a night (or day – we don't judge!) of bar hopping? We particularly like Fell's Point with its abundance of bars and restaurants and quaint waterfront setting.

So throw on your cutest flats (Because? Belgian block paved streets.) and get out there for cocktails, brews, and tasty food with the ladies.

Kicking Off The Evening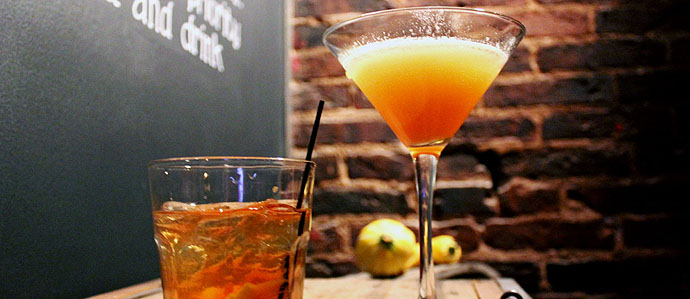 A staple of any girls' night out is a beautifully crafted cocktail and many of Fell's Point's bars certainly succeed at providing the vintage classics as well as innovative new drinks with fresh ingredients. Whether it's cocktails or wine that you want to enjoy to start the party, these picks will deliver.

Willow (811 S. Broadway; 443-835-4086)
With a comfortable lounge area and a beautiful, large bar as a centerpiece of this Latin inspired bistro, Willow is the perfect place to enjoy a handcrafted cocktail (mojitos or caipirinhas, ladies?) made from fresh ingredients by experienced bartenders who always aim to make your experience a satisfying one. Who doesn't want to start off the night sipping a spicy margarita made with jalapeno tequila in one of the very classiest venues in the heart of Fell's Point?
V-No (905 S. Ann St.; 410-342-8466)
Situated right on the water, but just a little bit away from the sometimes noisy sounds of tires and voices, V-No is an ideal place to enjoy your red, white, or rose al fresco. This shop offers a wide variety of well organized varietals with a nominal corkage fee, or glasses of wine as well. While you can sit inside at high top tables, why not chat with girls at an outdoor table where the people watching can be some of the finest in the area?
Waterfront Kitchen (1417 Thames St.; 443-681-5310)
Living up to its name, this restaurant and bar may well have the best waterview in all of Fell's Point. With an ample deck, there is plenty of seating at tables that offer one of the most expansive views of the water in all of Charm City. With renowned Chef Jerry Pellegrino at the helm, you know that the wine list is extensive, and the vintage inspired cocktail list is impressive as well.
RYE (807 S. Broadway; 443-438-3296)
Dedicated to using fresh local ingredients to craft inventive new cocktails as well as classics, RYE pays homage to Baltimore's history with Rye whiskey prior to the Prohibition. Friendly bartenders welcome guests at this cozy joint in the heart of Fell's Point. Not a whiskey drinkin' group of girls? Fear not. The extensive cocktail list is guaranteed to have something for everyone. The beer list features lots of local and other brews. The wine list, with six by-the-glass choices, goes well beyond the standard house wine offerings at so many other bars. And while you may not be seated al fresco, RYE is blessed with the type of front windows that open in such a way to feel pretty close to being outside, whether at the end of the bar, or on their comfy built in window side seats.

Lining the Belly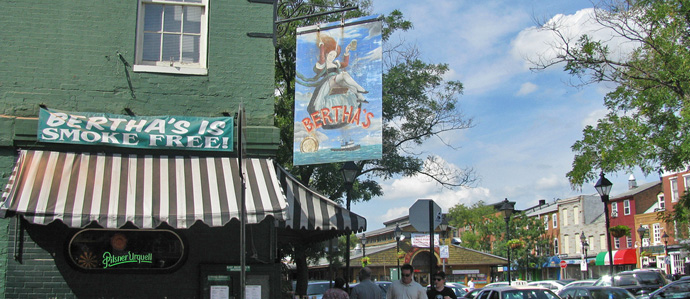 If you and the other ladies are going to tackle Fell's Point properly you are going to need some noshes to sop up your liquid indulgences. Fell's Point is chock full of eclectic and diverse eateries and some that are considered downright institutions in the cozy neighborhood.
Ze Mean Bean (1739 Fleet St.; 410-675-5999)
Located a little more than a block off of Broadway, Ze Mean Bean is one of the cutest and coziest restaurants in all of Fell's Point. Showcasing Slavic food, Ze Mean specializes in the likes of pierogies, holupki (stuffed cabbage), kielbasa, and Chicken Kiev. However, for those in the group looking for something less ethnic, there are plenty of options like crab cakes, shrimp and scallop risotto, lamb and more. During the week, make sure to get to Ze Mean's Bean's bar during happy hour and you will be rewarded with 25 cent pierogies. Now that's how you start the night!
Bertha's (734 S. Broadway; 410-327-5795)
You may have seen the "Eat Bertha's Mussels" bumper stickers in your travels around Baltimore, and if you have not tried them yet, now is the time. Steaming huge portions of mussels are served with your choice of 8 different sauces. Need something more? Their seafood heavy menu offers a ton of options in addition to sandwiches, chicken and steak, and salads.

Tapas Adela (814 S. Broadway; 410-534-6262)
You're with your friends, so why not share your food? Tapas Adela has large tables, and even a beautiful communal table, that you can share with your fellow carousers as you dig into a variety of tapas. From chickpeas sauteed in sherry and paprika and mushrooms with warm arugula and creamy goat cheese to garlic shrimp and amazing meatballs, everyone can order and enjoy as much or as little as they want before heading back out to get rowdy.
Riptide By The Bay (1718 Thames St.; 410-732-3474)
If you are bar crawling through one of Charm City's waterfront communities, it only seems right to enjoy some crabs. Riptide by the Bay is the place to go in Fell's Point if you want to pick some crabs. Some ladies not interested in dinging up that fresh manicure with crab shells and mallets? Riptide offers tons of other seafood options like crab cakes (of course!), oysters and shrimp, or those not in love with seafood can sink their teeth into a ribeye or ribs or a multitude of other salads, sandwiches or appetizers.
Get the Party Started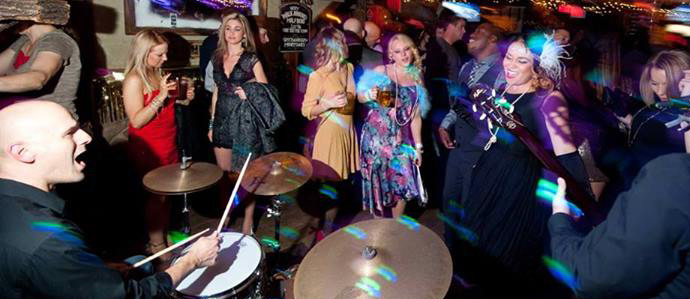 Now that you've set the stage with a few cocktails and a delicious dinner, it's time to get your bar hopping into full swing. In Fell's Point just about any type of ambiance can be found, so mix it up and check out a bunch of different spots.
The Horse You Came In On (1626 Thames St.; 410-327-8111)
Renowned as America's oldest continually operating saloon as well as the last place Edgar Allan Poe was seen before his death, "The Horse," is a must visit on any Fell's Point bar crawl. There is live music daily and while Jack Daniels appears to be the house drink of choice, there are plenty of beers and other offerings to satisfy any palate. This is the perfect place to have your bartender pour a Natty Boh with a rim of Old Bay. That's a Baltimore Martini, Hon.
One Eyed Mike's (708 S. Bond St.; 410-327-0445)
Slightly off the beaten path, One Eyed Mike's is a Grand Marnier watering hole with a comfy inside bar and a perfect covered outdoor seating area in the back, away from any potential street traffic. Specializing in the orange flavored goodness that is Grand Marnier, this bar offers a variety of takes on old favorites, like the Perfect Storm, a Grand Marnier and ginger beer version of the old favorite, Dark and Stormy. The beer and wine selection at this find are top notch as well.

Woody's Rum Bar (821 S. Broadway; 410-563-6800)
For one of the best elevated views of the waterfront, check out Woody's Rum Bar. Sip on a Painkiller (a dangerously delicious concoction that incorporates rum, coconut and fruit juices) while taking in the water view, or people watching from above.

Max's Taphouse (737 S. Broadway; 410-675-6297)
If the ladies like beer, heading to Max's is a must. Of course, Max's serves liquor and wine, but with 140 rotating beers on tap and over a thousand beers in stock altogether, Max's is the place to throw back some cold ones, or even do a self-made tasting amongst the group.
The Get Down (701 S. Bond St.; 443-708-3564)
Want to dance? Here's the place for it! Friday and Saturday nights you and the rest of the ladies can enjoy various DJs spinning at the Get Down while Sundays are dedicated to Salsa.
Anastasia (1636 Thames St.; 410-534-6666)
An Italian Bistro first, Anastasia transforms its identity into a club when the DJ begins later in the evening. Stop in for cocktails in a classy atmosphere and then hit the dance floor.

Late Night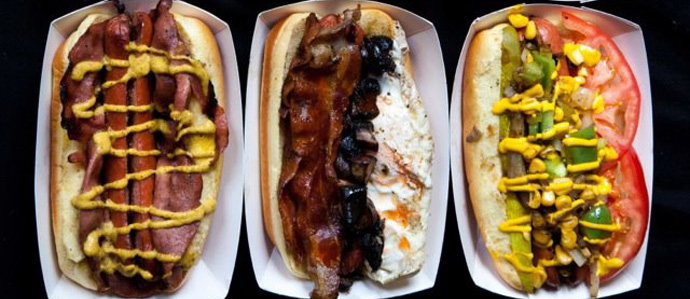 Sure, you had your tasty meal… MANY beverages ago. So what do you do when the bar says you don't have to go home but you can't stay there? Get the ladies to one of these late night hot spots for a little extra food in a nod toward feeling good tomorrow (here's hoping!).
Sofi's Crepes (1627 Thames St.; 410-563-0471)
Whether it's sweet or savory you're craving, Sofi's serves it up until 3 a.m. on Friday and Saturday nights. Get something traditional like the Florentine with spinach, mushrooms, gruyere and an unbelievable pepper parmesan sauce or get crazy with a S'mores or banana and peanut butter crepe. Booze got you feeling creative? Compose your own crepe from their massive list of potential ingredients.
Blue Moon Cafe (1621 Aliceanna; 410-522-3940)
Featured on Diners, Drive Ins and Dives, Blue Moon Cafe is open 24 hours on the weekend and is full most of those 24 hours for a good reason. With a menu that features now-famous Captain Crunch Encrusted French Toast (adorned with fresh fruit and housemade whipped cream) to inventive dishes like the Sweet Baby Jesus (eggs, hash browns, tomato, cheddar, jumbo lump crab, smothered in hollandaise!) in addition to traditional morning staples, this is THE place to go after enjoying Fell's Point's watering holes.
Hot Tomatoes (717 S. Broadway; 410-563-4453)
If it's freshly made New York style pizza that you are seeking, look no further than Hot Tomatoes. With perfectly thin crust and the ideal ratio of cheese and sauce, this enormous pizza will be enough to feed the whole group. This is a good thing, because this monstrosity truly is so gigantic that it's nearly prohibitive to getting into the back seat of the cab.
Stuggy's (809 S. Broadway; 410-327-0228)
Thursday, Friday and Saturday Stuggy's is open until 3 a.m. serving up innovative hot dogs and sausages. Creative toppings run the gamut, but who in Baltimore can turn down a dog topped with crab macaroni and cheese? The fries come in a several mouthwatering varieties as well including fried pickles. Have a sweet tooth after indulging all night? Two words: Fried. Oreos.
Bonaparte Breads (903 S. Ann St.)
This little French cafe closes at 6 p.m. during the week and 8 p.m. on the weekends. While that doesn't sound very "late night noshing" friendly, this tip is: Bonaparte's bakers are known to bake overnight into the wee hours. Knock on the back door after hours and the bakers have also been known to answer and sell their fresh, warm and absolutely delicious chocolate croissants right there on the spot. Time with the girls plus drinks plus freshly baked chocolate croissant nightcap equals? Perfection.
Photos: The Get Down/Facebook; RYE; Flickr user mathplourde; The Horse You Came In On/Facebook; Stuggy's/Facebook
Tags:
Bar Crawl
,
Beer
,
Cocktails
,
Dinner
,
Food
,
Outdoor Seating
,
Spirits
,
Whiskey
,
Wine
Recent Articles

Feedback
How are we doing? Tell us what you like or don't like and how we can improve. We would love to hear your thoughts!