Best Bars For Burgers in Baltimore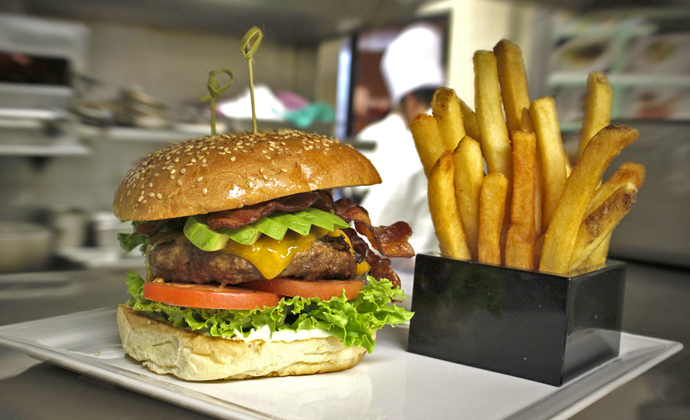 Here at Drink Baltimore we certainly don't miss an opportunity to scarf on some top notch burgers, so we took the liberty of putting together a list of some of our favorite spots around town for some burgers and equally awesome drinks.
Alonso's (415 W. Cold Spring Ln.; 410-235-3433)
With 22 burgers to choose from, it is no surprise that Alonso's is routinely a top voted burger in any challenge in Baltimore. From stuffing a burger with jalapenos and cream cheese then smothering it in ranch to piling peanut butter and applewood bacon on their Elvis burger, the creativity of this kitchen has no limits. Feeling bold? Try the Big Tex Burger Challenge with double stacked one pound burgers covered topped with barbecue sauce, bacon, steak chili, jalapenos, onion straws and cheddar cheese.
JD's Smokehouse (3000 O'Donnell St.; 410-675-4029)
JD's is known for their meat so it's no surprise they make one of the best burgers you can find in Baltimore. Start your meal with an appetizer of cheeseburger sliders served on potato rolls alongside fries or choose a meal sized sandwich from one of their twelve burgers that sport toppings like sauteed mushrooms, hickory smoked bacon, peppered ham, jalapenos, and a ton more. Not in the mood for 100 percent certified Angus beef? Substitute a turkey or black bean burger instead.
Kislings Tavern (2100 Fleet St.; 410-327-5477)
A mainstay in Baltimore, Kislings is known for its incredible wings, but their burgers are consistently satisfying as well. With 100 percent Black Angus Beef, these delicious hand made burgers can be topped with any of the standards, but why not through some of that famous wing sauce on top?
Wit & Wisdom (200 International Dr.; 410-576-5800)
Known for being the classy waterfront hangout at the Four Seasons in Harbor East, Wit & Wisdom features several burgers to please any palate. Covered in "secret sauce" the Bourbon Steak Burger is the most traditional burger, cloaked in cabot clothbound cheddar and topped with sour pickles. A turkey burger is donned with guacamole and jack cheese and a falafel burger is treated to some tahini sauce. The final offering, the lamb burger, is a variety that is fairly difficult to find in Charm City and this one is treated perfectly with confit tomatoes, pan seared onions, and tzatziki sauce.
Koopers (1702 Thames St.; 410-563-5423)
Koopers is THE place in Fell's Point (and maybe all of Charm City) for a burger. There are 10 options already composed on the menu, but their Build Your Own Burger program is beyond impressive. Start with choosing your meat (Creekstone Farms Certified Black Angus, free range turkey, lamb, bison, Wagyu, veggie, or the meat of the month). Then choose from seven different cheeses, about 10 different standard toppings (think mushrooms, jalapenos) and/or 10 varied premium toppings (roasted garlic cream cheese, truffle arugula, triple cream brie, to name a few) We're swooning already. Need another reason to visit? Burgers start at just $5 on Tuesdays. Can't make it to Fell's Point? Check out the Chowhound Food Truck which makes its way around Charm City almost daily. The schedule can be found on their site: www.kooperschowhound.com.
Abbey Burger Bistro (1041 Marshall St.; 443-453-9698)
USA Today has named Abbey Burger Bistro "Maryland's Great Burger Joint," and for good reason. The cozy sports bar in Federal Hill and winner of the 2013 City Paper Best Burger Bracket, serves up a wide variety of composed burgers off of their menu with meat choices ranging from ground chicken to bison to beef or lamb with tons of great standard toppings. However, for the more adventurous, there is the Build A Burger Checklist which outlines every ingredient in the restaurant that can be a part of your burger. Start off by checking the box next to your meat choice from the list that includes the previous mentions, as well as kobe beef, lamb, elk, kangaroo, turkey, wild boar and the meat of the month. Then, choose from an impressive list of cheeses, bread types, free additions, and toppings at a charge. From spicy creme fraiche to white truffle oil and habanero pickles to grilled pineapple, there is no end to the burgery possibilities. Not in the mood for meat? Instead, choose a fried green tomato, the shroom (roasted portabella mushroom) or a veggie burger.
The Dizz (300 W. 30th St.; 443-869-5864)
The Dizz had us with the words "bourbon rub." There's also a whiskey rubbed, and an espresso rubbed burger amongst 17 others on the menu. Charm City's beloved Duff Goldman (of Charm City Cakes fame) lists this as one of his favorite places to get a burger and one look at the menu leaves no reason to ask why. Nearly all of the burgers are less than $8, and most have some type of rub or spice mixture added to impart serious flavor whether it's local (Old Bay!) or a little further away (Caribbean, Mexican, Mediterranean). You can also get your burger in slider form or on a sub, and if beef isn't what you crave, there is bison as well.
Hamilton Tavern (5517 Harford Rd.; 410-426-1930)
As the runner up in the City Paper Burger Bracket in 2013, Hamilton Tavern is a strong contender for best burger in Baltimore. Rather than spreading out and providing a huge array of offerings, Hamilton Tavern focuses on making one really solid burger that packs a punch and the resulting fame of their "Crosstown Burger" proves their strategy to be a success. With Roseda Farms beef used for the patty, the burger is a solid sustainable and local choice. Topped with shredded iceberg lettuce, onion and horseradish cheddar it's a solid traditional burger with a slight twist. If you really want to kick it up a notch, add the sticky-spicy bacon or a fried egg for only a $1 each. This simplistic version of the beloved hamburger has us dying to drive out to the quaint block on which Hamilton Tavern resides. Pronto.
Photo: Flickr user panpacificvancouver
Tags:
Beer
,
Cocktails
,
Dinner
,
Food
,
Spirits
,
Wine
Recent Articles

Feedback
How are we doing? Tell us what you like or don't like and how we can improve. We would love to hear your thoughts!