Neighborhood Happy Hour Crawl: 36th Street in Hampden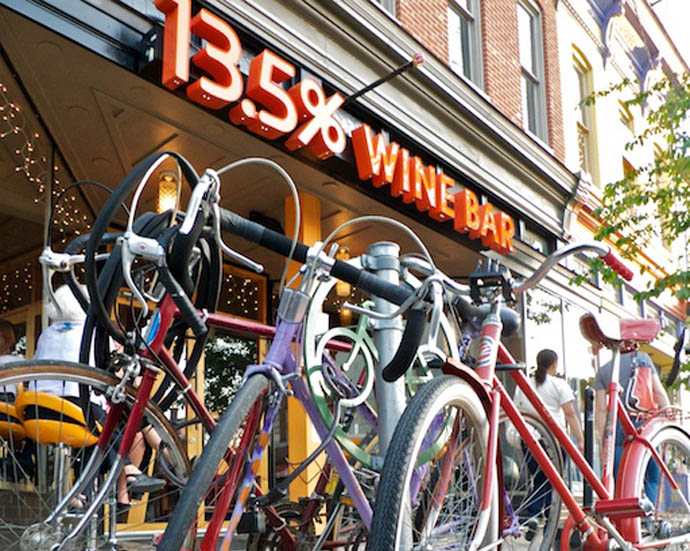 Thanks to John Waters, Hampden is probably Baltimore's most famous neighborhood. And if the happy hour specials available on 36th Street stay around, Hampden may remain a favorite neighborhood for Baltimore's residents for years to come. Who needs to wait for the weekend, anyway? Grab a few friends (and a designated driver) and head down to 36th for an awesome bar crawl, hon.

Golden West Café (1105 W. 36th St.; 410-889-8891; Happy Hour 11 AM–7 PM Mon.–Fri.)
We start with a Southwestern flair at Golden West Café, and we start early. From 11 AM–3 PM, order a burger or a sandwich and get Baltimore favorite Natty Boh for just 1¢. (We'll give you a moment to let that settle in.) If you happen to show up little later, enjoy the second half of the happy hour from 3–7 PM. Margaritas and house wines are $4, cans of Natty Boh are $2 and rail drinks and drafts are $1 off. Golden West also offers daily specials Mondays–Thursdays, like $6 pitchers of Moosehead and Natty Boh on Tuesdays. This is what we call starting things off right.

13.5% Wine Bar (1117 W. 36th St.; 410-889-1064; Happy Hour 4–7 PM Mon.–Fri.)
Just a couple doors closer to Falls Road, our next stop is definitely our most chic. The earlier you arrive at 13.5%, the better your chances of landing one of the comfy leather sofas. Once you sink your rear into one of these seats, you'll agree that there's no better place in Hampden to lounge with your friends. What could make it better? Well, $2 off glasses of wine couldn't hurt.

From here, we continue our crawl east toward Roland Avenue, though where we stop next depends on how merciful you are to one of Hampden's most notorious.

Hon Bar (1002 W. 36th St; 410-243-1230; Happy Hour 4–7 PM Mon.–Sun.)
Let's face it: Baltimore knows how to hold a grudge. (Colts? Colts who?) But if you've found it in your heart to forgive Café Hon owner Denise Whiting for her brazen attempt to copyright the word "hon," you can add the kitschy Hon Bar as your next stop. Yuengling Drafts and domestic bottles go for $2, and well drinks are just $3. Hungry? During happy hour, wings are $5. With those specials in mind, maybe we can forgive Whiting after all. Maybe.

Frazier's on the Avenue (919 W. 36th St; 410-662-4914; 4–7 PM Mon.–Fri.)
Be careful not to miss Frazier's as you continue a half block past Roland Avenue. This unassuming dive is perhaps a polar opposite of Café Hon; that they're both quintessentially Baltimore speaks volumes to the spirit of our city. This is exactly the kind of hole in the wall where you'd expect to find delicious home cooking, and Frazier's doesn't disappoint. Add to that $1.50 pours of Miller Light and Blue Moon and cans of Natty Boh and PBR, along with $5 mixed drinks discounted to $2.50, and you're sure to leave with a smile.

Feeling it yet? Don't worry, just one more stop across the street.

Holy Frijoles (908 W. 36th St.; 410-235-2326; 3–7 PM and 11 PM–close Mon.–Fri.)
Hop to the other side of 36th Street to a completely different kind of hole in the wall at Holy Frijoles. Pay just $4 for some of the best house margaritas the city has to offer, and don't forget the $2 select drafts and $3 select bottles. The best part? If you got caught up enjoying the deals at another bar on our crawl and missed the 7 PM cut off for happy hour, Holy Frijoles offers a late night happy hour from 11 PM–close.
Photo: Courtesy of 13.5% Wine Bar

Tags:
Beer
,
Cocktails
,
Food
,
Spirits
,
Whiskey
,
Wine
Recent Articles

Feedback
How are we doing? Tell us what you like or don't like and how we can improve. We would love to hear your thoughts!