Baltimore's Best Raw Bars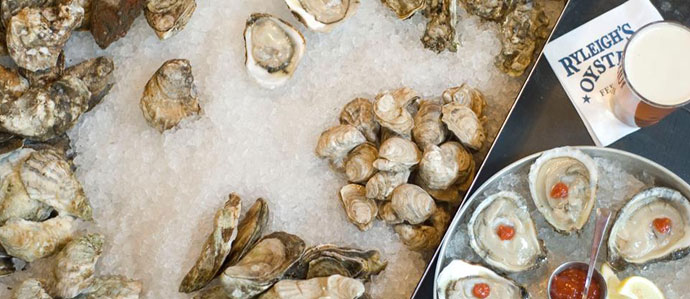 Forget those folks that say there needs to be an "r" in the month in order to truly enjoy oysters, the (very soft and slippery) backbone to any quality raw bar. The only "r" we need in the summer months comes at the beginning of the word "relaxing," or "restful," or "really, really good!". In this case, the "r" rests in the beginning of these really amazing raw bars. What screams summer more than ridiculously fresh seafood with refreshing beverages?
Mama's on the Half Shell (2901 O'Donnell St.; 410-276-3160)
This Canton mainstay is a favorite among locals looking for the best seafood in Charm City, and for good reason. Some of the freshest oysters, clams, shrimp and mussels can be dug up on Mama's raw bar menu. Wash down your satisfying seafood with some of the best crushes in town or, if you prefer to do double duty by consuming your shellfish and libations simultaneously, throw back an oyster shooter with vodka, cocktail sauce and (of course) an oyster, or let your inner hipster shine through and order the Blue on Blue, a four-ounce pour of Pabst Blue Ribbon over an oyster and cocktail sauce.
Thames Street Oyster House (1728 Thames St.; 443-449-7726)
This Fell's Point favorite on the waterfront serves up a wide variety of savory seafood and the raw bar has possibly more selections than any other in this neighborhood. Sidle up to the bar in this simple and charming restaurant and check off on the printed list which of the oysters available for the day you want to try, or check out the fish and shellfish selection ranging from crab claws to clams. Feeling bold? They even have escargot or a Dutch pickled herring plate. Booze it up with some oyster shooters while you're indulging in lobster tails or shrimp cocktail, or sip some local brews from the likes of Flying Dog and Heavy Seas. We particularly like to pair local Boordy Vineyard's Rockfish (a crisp Seyval-Vidal-Chardonnay blend) with any of the many choices at this raw bar.
Nick's Oyster Bar (1065 S. Charles St.; 410-685-2020)
Having graced Baltimore with its presence since 1972, you know this Cross Street Market establishment has to be good. In the heart of Federal Hill, Nick's Oyster Bar sits at the entrance to the market and boasts a large dining area with just the right mix of pleasantly gritty and cozy ambiance as perfect for a Ravens game as it is for a liquid lunch. Order local, Blue Point or Chincoteague oysters, or clams off of the oyster bar menu or any of dozens of options on the cooked seafood menu, from steamed shrimp to a creole oyster po boy. Oh, and did we mention that amongst all of this seafood goodness there is also sushi? And if you need more than seafood to line your stomach while you're drinking one of Nick's 32-oz. (yes, 32!) beers, you could choose mozzarella sticks or onion rings, but we're pretty sure the correct answer is Old Bay Cheese Fries.
Ryleigh's (36 E. Cross St.; 410-539-2093)
Federal Hill fans of this casual bar and restaurant undoubtedly agreed with Food Network's Tyler Florence when, after his 2012 visit, he tweeted that he was "blown away" and that it was "one of the best Oyster Houses in the country." With oysters from tons of locations as well as lobster claws, Maryland crab cocktail, and shrimp cocktail on the "Off of the Ice" menu, along with tons of other locally inspired seafood dishes, Ryleigh's is a sure bet for a satisfying seafood indulgence. With plenty of very competent bartenders, the perfect accompanying cocktails, vino or brews are the icing on the cake (or mignonette on the oyster?).
Nick's Fish House (2600 Insulator Drive; 410-347-4123)
On any warm summer afternoon, who can turn down sitting on Nick's Fish House's right-on-the-water expansive deck, at a table or the outside bar, while noshing on the likes of oysters on the half shell, jumbo lump crab salad, crayfish, clams on the half shell, or the crowd pleasing chipotle lime mussels? Nick's boasts one of the best views in Baltimore, even from the inside of the large Eastern Shore style restaurant. Drinks don't take second place here either with a quality selection of brews and wine, as well as classic cocktails and some decent specials during the week.
Slainte/Koopers Tavern (1700 Thames St.; 410-563-6600)
This is purely oysters, friends, and only on the weekends, and only outside. Yes, outside. Oyster Matt is quickly becoming a legend in Fell's Point with his year-round weekend oyster shucking outside of two of the best bars in the area. Be it in shorts in the summer, or a Santa costume in 30 degree December weather, this guy can shuck, and often for a buck. Grab a seat outside at one of the two bars to have some drinks as well, or slurp your oysters then head in to either bar for a great selection of brews, or a crafty cocktail.
Boathouse Canton (2809 Boston Street; 410-773-9795)
With crushes and cocktails galore and a great list of craft brews and wine, this newcomer to the waterfront in Canton is the place to enjoy your raw bar seafood inside or on their impressive outside space. Get your Blue Point oysters or PEI mussels and enjoy the gorgeous view while sipping your libations of choice.
Heavy Seas Alehouse (1300 Bank Street; 410-753-1403)
Who would have guessed that an alehouse that puts out one of the best non-steakhouse steaks in town would also have a really impressive oyster menu? Sit at the bar and have your oysters shucked before you, or dine at a table and enjoy those oysters along with some PEI mussels to die for. Cream broth with garlic and Old Bay, fennel and tomato? They're speaking our language. Obviously, the drinks here are divine, with their craft beers on tap and spectacular rum choices that speak to your inner pirate. What we really love (in addition to the unspeakably delicious food) are their beer cocktails. We're sorry. Can you repeat that? Did you just say bourbon AND stout? Yes, please.
Photo via Ryleigh's
Tags:
Beer
,
Food
,
Outdoor Seating
,
Spirits
Recent Articles

Feedback
How are we doing? Tell us what you like or don't like and how we can improve. We would love to hear your thoughts!