Where to Find a Good Pizza and a Pint in Baltimore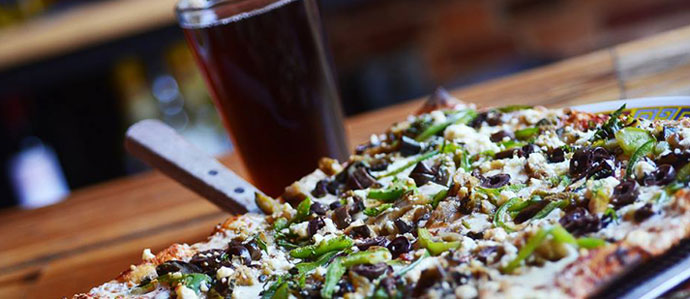 Summer is winding down and the busy months of fall are descending upon us. What better way is there to end (or kick off!) these hectic weeks than with some simple food and booze at dinnertime? Enter: Pizzas and pitchers.
Whether you're headed out to happy hour or hanging out at the bar to do some bird watching (is there any better time of year than when the O's and the Ravens are playing?), there are a bunch of joints around Charm City firing up some cheesy goodness and pouring pints and pitchers to enjoy together.
Alexander's Tavern: With specialty pizzas galore, Alexander's Tavern is the place to go for anything from the standard pie to utter decadence. Made with local fresh dough and house made marinara, Alexander's Plain Jane pizza will satisfy any craving. Feeling adventurous? Varieties like Mac and Cheese pizza and Buffalo Chicken will hit the mark. Haven't had enough crabs and crab dishes this summer? Try the Balmer, an indulgent pie with crab dip, bacon and a three cheese blend, hon. The possibilities are endless and often the beer list is too, ranging from domestics to craft brews and seasonal locals in bottles and on tap. (710 S. Broadway; 410-522-0000)
Hersh's: Hersh's menu offers all sorts of Italian dishes but the signature is the wood-fired pizza. The Neapolitan style pie comes topped with a variety of fresh ingredients. Stay standard with the Margherita (fresh mozzarella, tomato, basil) or go way outside the box with the Kale and Pistachio which also features fontina, garlic, red pepper flakes and pecorino romano. Get really authentic and swill Italian made Peroni or wash the crispy goodness down with any of the craft beers on tap from the likes of Heavy Seas, Flying Dog, Oscar Blues or Schlafly, to name a few. (1843 Light St.; 443-438-4948)
Wharf Rat: This unassuming corner bar in Fell's Point is a staple for Baltimore beer drinkers, especially in the winter when the early bird gets the cozy fireside table in the back. With hearty draft and bottle lists, and even some cask conditioned ales, this is the place to hunker down with a brew after a long day. Sure, the "kitchen" at this Fell's Point mainstay is really just a few appliances on the counter behind the bar, but Wharf Rat puts out some of the best simple pies in all of Baltimore. Even better? It's half price (only about six bucks for 16 inches) on Wednesdays. (801 S. Ann St.; 410-276-8304)
Johnny Rad's: This hip joint serves up self proclaimed artisanal pizza in a comfortable environment featuring games like skee ball and one of the best bottled beer selections in this part of town. Twelve pizza choices are featured on the menu, but with over two dozen topping choices, including vegan options, there is no limit to the amount of combinations that can be created. Have a morning pizza craving? Check out Rad's for brunch pizzas on Sundays. (2108 Eastern Ave.; 443-759-6464)
Joe Squared: Award winning Joe Squared has been revered by Zagat and featured on Food Network's Diners, Drive Ins and Dives and with their stellar pizza and extensive rum list, it's no surprise. There are over two dozen pizzas on the regular menu, plus three creative new pizzas introduced on the first of each month (one of which garners proceeds for charity) plus a seemingly endless list of choices to build your own pizza to be charred in their 900 degree oven. Each night of the week, Joe Squared also boasts happy hour specials at both locations, many involving half price beer or discounted pizza. (133 W. North Ave.; 410-545-0444 and 30 Market Pl.; 410-962-5566)
Matthew's Pizzeria: This Highlandtown pizza place has become an institution in Baltimore for both deep dish and thin crust pizzas. It's also one of the most reasonably priced pizza joints in Charm City with most large pizzas going for $10.95 while beers sell for $3 (domestic) and $4 (import). As with any pizzeria worth its weight in mozzarella, Matthew's serves everything from the simple cheese pizza to the Crab Pie which is topped with 100% backfin crab meat, mozzarella, imported reggianito cheeses, caramelized onions and Old Bay. Mama Mia! This is the way to chow down and drink up. (3131 Eastern Ave.; 410-276-8755)
Bartenders: This cozy Canton bar is a favorite of ours for a lot of reasons, and the notable bourbon selection has a lot to do with it. However, if you're looking for some grub and a pint, this is also the place to visit. If the concept holds true that consistency is a true measure of performance, then Bartenders gets an A+. Pizzas, the specialty of the house, never fail to be hot and perfectly crisp and the rotating beer list routinely features interesting brews. Feeling brave and exceptionally hungry? Try tackling the Big Bill, Bartenders' "everything pie." Dough is sauced and topped with peppers, onions, mushrooms, tomatoes, cheddar, mozzarella, parmesan, salami, chicken, sausage and pepperoni. There's no chance you'll go home hungry (or thirsty) after a trip here. (2218 Boston St.; 410-534-2337)
Photo via Joe Squared
Tags:
Beer
,
Food
Recent Articles

Feedback
How are we doing? Tell us what you like or don't like and how we can improve. We would love to hear your thoughts!