Q&A with Wit & Wisdom's Aaron Joseph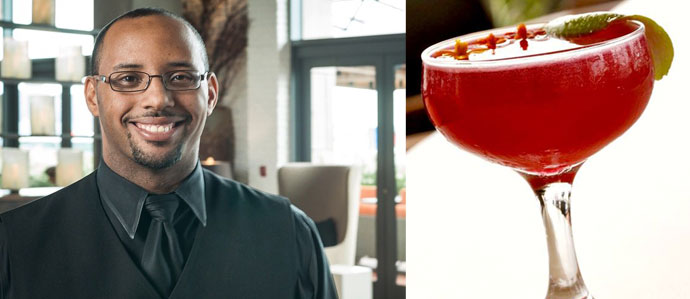 Recently, we stopped in to one of Charm City's most stylish waterfront bars, Wit and Wisdom, to chat with lead bartender, Aaron Joseph. The talented, yet highly humble, award winner mixed up some of his signature cocktails while talking with us about his bar background, inspirations, trends and how he fulfills his mantra, "Let's expand palettes!"
Was bartending an intentional career choice?
Actually, I started out serving. But, I'm a person who wants to do everything, so I diversified to learn about different parts of the restaurant so that I could work toward becoming management. Instead, bartending became a passion and, really, a privilege. I love the casual interaction with people.
What kind of education or background do you have that has helped you to be so successful behind the bar?
Real life is where I learned most of what I know. To stay relevant, I go to classes, tastings, and seminars. Earlier this year, I went to Tales of the Cocktail and in a few months I will be headed to Portland for an event there.
What flavors are you focusing on using now as summer winds down and fall kicks off?
Stone fruits like plums and peaches are a big focus and I like to try completely new flavors. I found a species of gooseberries at Whole Foods and had to give them a shot. I'm still working on a cocktail to use them in, but the flavor is really unique… like a sun-dried tomato meets peanut butter.
Can you tell me about a cocktail that you have made with stone fruit?
The Backyard Rickey is a take on the traditional Rickey, the official drink of Washington D.C.. I created an infused soda with spices like cayenne and white pepper, juice from grilled peaches, mint and sugar. It's mixed with gin and served over ice. The lightness and the grilled flavor make it a refreshing drink for a cookout.
Which drinks on the menu you've created are your favorite?
Papa's Na Pua and Charming Foxhole are my favorites. Charming Foxhole is barrel aged and Papa's Na Pua ("Father's Beautiful Daughter") has rum, one of my favorite spirits to work with.
What excites you about Baltimore's burgeoning drink scene?
It's forthcoming and it's new and it's got passion. In DC it's mellowed out and I like being a part of something with passion.
At the forefront are craft cocktails and lots of places, like Wit and Wisdom and Woodberry Kitchen, for example, are getting into it. You hear names like Brendan Dorr (B&O American Brasserie) and Doug Atwell (Rye) all creating these cocktails in Baltimore and it's great to be on the forefront with those places and people, and part of the excitement.
Because people are into it, you can bring new techniques that are relevant to the scene, and it pushes us to be part of the scene and to expand.
What are some trends you like right now?
Bottle cocktails are a great new trend, particularly those that are low proof, or mini cocktails. That way, you can sample several different cocktails. Barrel aging is also fun. Its fun to see how it changes and becomes either more vibrant or more mellow.
Tell me about an interesting experience you've had while bartending.
In DC, we started making drinks for each customer based on what they wanted. The drinks turned out so well that customers started to come back and request exactly what we'd made before. There were so many, we could hardly keep track of them so we started calling them Picassos. One of a kind.

As our interview came to a close, Abby, a regular at Wit & Wisdom and a fervent fan of Aaron's drinks spoke to his creativity with passion when she shared, "Last week he made a drink with gin and wine. Gin and wine! And it was delicious….or I was really drunk. But I think it was delicious."
After our interview and some samples of our own, we're pretty sure that Abby's drink was, indeed, delicious. We hope that Aaron continues expanding palates in Baltimore for many happy hours to come.
Tags:
Cocktails
,
Spirits
Recent Articles

Feedback
How are we doing? Tell us what you like or don't like and how we can improve. We would love to hear your thoughts!