Get Adventurous with Some of Baltimore's Funkier Bar Bites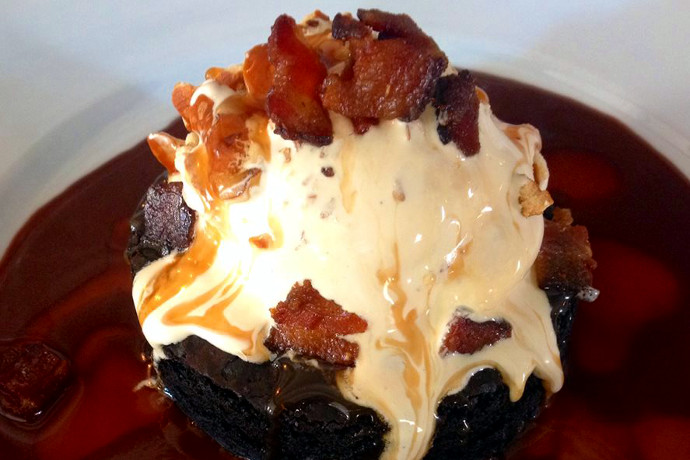 All across Charm City we know we can find creamy, cheesy crab dip and the ubiquitous crab pretzel at most of our favorite happy hour haunts, along with wings, nachos, sliders and other standards to line our stomachs as we swill our drinks. However, a few local watering holes are raising the bar (pun intended, folks) to create crafty cuisine.
Le Garage
If unique is the name of your bar noshing game, look no further than Le Garage for their Roasted Bone Marrow ($10). Either one large bone, or two of medium size, is topped with a green salsa and bread crumbs with brioche on the side. Fancy decadence at its best, this is sure to absorb at least some of the classic cocktails, Belgian beers or French wines you may imbibe at this classy Hampden eatery. (911 W 36th St.; 410-243-6300)
Ten Ten
If you've been reading Drink Baltimore for a minute, you might have guessed we are a bit enamored with poutine. This Canadian dish is fairly elusive in Baltimore, and even tends to just make guest appearances, only to vanish from a menu on a next visit. Ten Ten's rendition, Cunningham Farms Pork Poutine ($9) is a little non-traditional, with a pork confit and pork jus over the fries, but we like when there's a spin, as long as it includes those very necessary cheese curds, as this one does. (1010 Fleet St.; 410-244-6867)
Food Market
Chad Gauss, award winning chef at this explosively popular Hampden bar and restaurant, is known for creativity in the kitchen and he wins again with an upscale take on fried pickles. Buffalo Pickles ($6) are fried gems of pickle goodness settled atop scrambled gorgonzola and spicy buffalo sauce, garnished with some green herbs. While fried pickles may be a known bar favorite, this elevated version has us dying to fall in love with them all over again. (1017 W 36th St.; 410-366-0606)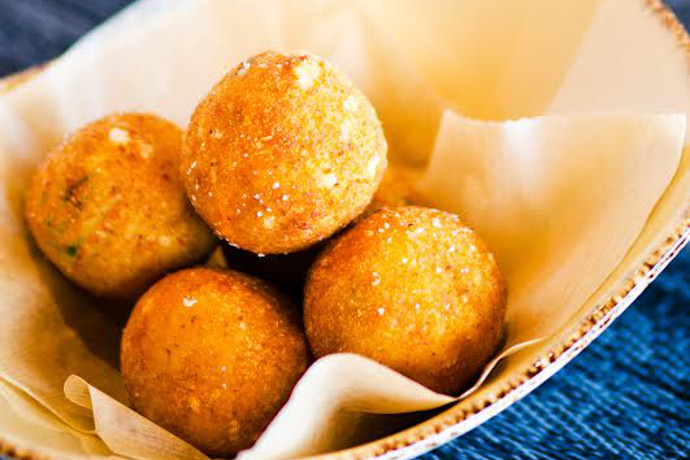 Family Meal
With a name like Family Meal, you may not think this newest Voltaggio-owned restaurant in Baltimore is the place to go for some drinks and bar bites, but think again. Sure, this is a perfect spot to go with family and friends to enjoy innovative comfort food, but the large bar in this Inner Harbor spot is the physical centerpiece to the restaurant, and has some of the most inspired cocktails you'll find in the city. What better to complement those drinks than a creative and comforting app like the Chicken Pot Pie Fritters ($5.99)? These golden and crispy fried balls are filled with the exact heavenly creamy, chicken goodness you would expect from the name. It's chicken pot pie exactly not like mom used to make… but maybe only because you're pairing them with a tequila cocktail? (621 E Pratt St.; 410-601-3242)
Sip Kitchen & Wine Bar
This newcomer to Federal Hill is housed in the Ritz Carlton residences as of just a few weeks ago. It may sound intimidating, but after you help yourself to one (or many) of their self pour wine machines that house 72 different bottles, you'll feel at ease… even if Raven Justin Tucker (who lives at the residences) happens to pop through the bar. Though they were out of the figs when we recently visited, we are particularly excited to pop in again to try the Spanish Chorizo and Sweet and Sour Figs ($9). Prepared with sherry vinegar and served on crostini, we're pretty sure we could lounge in their perfectly weathered, leather chairs with this dish and top notch wine in hand almost any night. (807 Key Hwy.; 667-239-3105)
Lobo
This newcomer to the edge of Fell's Point has a quality whiskey program, approachable wine list and an inimitable rotating small plates menu. Fans of the raw bar, we love to enjoy some oysters, but the Stuffed Quahog Clam ($5) is a top choice to kick off the night. Lobo's kitchen takes an enormous clam shell and stuffs it with a mixture of chopped clams, chorizo, peppers, lemon zest, thyme and crushed Ritz crackers, then bakes, resulting in a gorgeous golden presentation and a spicy/sweet seafood delight to accompany whatever hand crafted cocktail or neat pour you choose. (1900 Aliceanna St.; 410-327-0303)
Fork & Wrench
This upscale industrial style spot on Boston Street is a favorite of ours for the perfect late night cocktail (or pickle back…). But get there a little earlier and order the Steak Tartare ($14). Nearly an inch thick and a mason jar wide, this presentation of steak tartare (with cornichons and finely diced tomato) is far more than most portions of this dish. We know you need your starch, too, and so does F&W, because they include with the dish gorgeous purple potato chips and a sour cream and onion "dip" (closer to an aioli). Classy chips and onion dip? Plus steak? We're all in.
For a sweet bar nosh, check out their Bacon Brownie with malted pretzel ice cream, Resurrection beer caramel and bacon bits. Textures, flavors and temperatures all combine for the perfect bite, sober or slightly tipsy. (2322 Boston St.; 443-759-9360)
Photos: Bacon Brownie (Fork & Wrench), Chicken Pot Pie Fritters (Family Meal)
Tags:
Cocktails
,
Food
,
Spirits
,
Wine
Recent Articles

Feedback
How are we doing? Tell us what you like or don't like and how we can improve. We would love to hear your thoughts!