Baltimore's Best Coffee Shops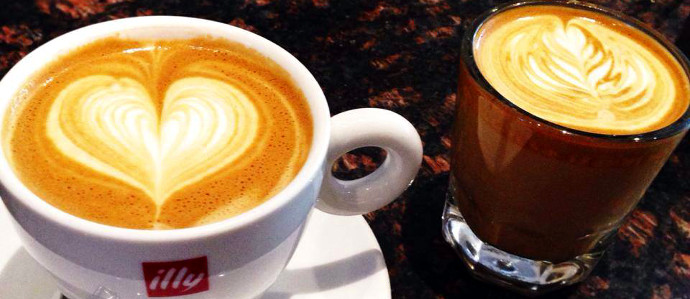 We know that with a name like "Drink Baltimore," you expect to hear from us about all things fermented. However, January 20 is National Coffee Break Day, so we here at The Drink Nation are taking a bit of a coffee break ourselves. Here we tell you where to grab some of the best cups of coffee around Baltimore. (Don't worry, we're not complete teetotalers - some of these still have booze!)
Artifact Coffee
Rustic and quaint, this popular Woodberry coffee shop is the place to warm up in the cold months. Grab a small table with a friend, or go all hipster and hunker down with your Macbook at the communal table, after you order small plates and coffee drinks from the counter. Counter Culture beans are ground to prepare espresso as well as the Pour Over Coffee, French Press to Share, or the Japanese Cold Brew Iced Coffee. You can't go wrong with any choice from this menu, but we particularly love the maple latte in the cooler months, with a rich and slightly sweet flavor and, of course, a maple leaf design in the milk and espresso on the top.
This is also one of the few coffee bars in Charm City where you can get boozy, too. Rye, bourbon cream, rum and amaro are a few options to transform your coffee buzz to another type of buzz altogether. (1500 Union Ave.; 410-235-1881)
Teavolve
We do realize that the name of this place revolves around tea, but we promise you'll find coffee inside as well. In addition to pours of regular or decaf, Teavolve has some seriously decadent specialties. We're intrigued by the idea of the Dirty Chai Latte (the typical chai, but with a shot of espresso) and in love with anything that has "salted caramel" in its name. But it's the Red Velvet Latte that has us head over heels about Teavolve. The stylish spot on the edge of Harbor East also serves sangria, tea cocktails and an extensive list of signature cocktails. (1401 Aliceanna St.; 410-522-1907)
Spro
One of the newer coffee shops in the pleasantly quirky neighborhood of Hampden, Spro is dedicated to serving high quality coffee from a variety of regions and roasters. Their honey macchiato is a favorite of devotees to the spot, but it's also a top place to do some tasting if you're a coffee connoisseur. A short list of sweet and savory snacks are on the menu, and since they don't offer WiFi, you can consider a trip here a true coffee break. (851 W 36th St.; 410-243-1262)
Zeke's Coffee
This beloved Baltimore roaster houses its local storefront operation in a cozy space in an up and coming community, right on Harford Road. Simple is the name of the game here (despite the behind-the-scenes complex care these roasters put in to produce quality coffee), and it's a pleasant diversion from some of the fancier coffeehouses around town. Grab regular coffee or any variety of espresso drink and enjoy on its own or with any of their sweets (cinnamon buns, rugelach) or sandwiches (try one of the best, and least expensive smoked salmon and cream cheese bagels in Baltimore). (4607 Harford Rd.; 410-254-0122)
City Cafe
If you know Mt. Vernon, you know City Cafe. Housed in a stately structure on the corner of Cathedral St., this popular spot is roughly ⅓ coffee bar, ⅓ bar and ⅓ restaurant. With all of the expected coffee drinks (regular pour, americano, cappuccino, etc) and a seasonal latte or two (think: eggnog), as well as plenty of food options that are quick to grab, this is an easy place to pop in and out. For those who look to linger, City Cafe has one of the most high quality, varied menus in the neighborhood, serving lunch and dinner as well as a breakfast menu from 7:30 AM–3 PM during the week. Grand Marnier French Toast with fig jam and warm maple syrup is calling our names….(1001 Cathedral St.; 410-539-4252)
One World Cafe
Just north of Johns Hopkins University, this quiet corner cafe caters to the vegetarians in the area. Plenty of coffee choices abound on the menu, alongside sweets like blondies and carrot cake, snacks like edamame and hummus, and mains from a veggie burger of the day to a crab-less crabcake. (100 W University Pkwy.; 410-235-5777)
The Daily Grind
Many from Baltimore might struggle to remember a time when The Daily Grind was not in its waterfront spot along the belgian-blocked Thames Street in Fell's Point, and we frankly hope that time never comes in the future. With an eclectic crowd, a perfect location, and damn fine coffee (as well as lattes, smoothies and breakfast and lunch items), there may be no better place to either break open the laptop to finish some work, read the local papers, chat with a friend or just people watch. (1720 Thames St.; 410-558-0399)
Dooby's
Starting out as a coffeehouse, Dooby's has quickly become one of the top dining destinations in Mt. Vernon. Quickly get a coffee and a pastry (Brown Butter Dark Chocolate Cookie, we're looking at you), or settle in for a meal with basics like oatmeal or eggs, or any of the chef's asian-inspired cuisine from rice bowls to a Korean BBQ cheesesteak. They also serve beer and wine all day, but if you're looking to liquor up your coffee, we would definitely suggest going after 5 PM for the Autumn Spice Coffee--a cup of steaming caffeinated goodness laced with bourbon and spiced syrup, topped with whipped heavy cream and nutmeg. (802 N Charles St.; 410-609-3162)
Photo via Spro
Tags:
Cocktails
,
Coffee
,
Food
,
Spirits
Recent Articles

Feedback
How are we doing? Tell us what you like or don't like and how we can improve. We would love to hear your thoughts!