Baltimore's Best Date Spots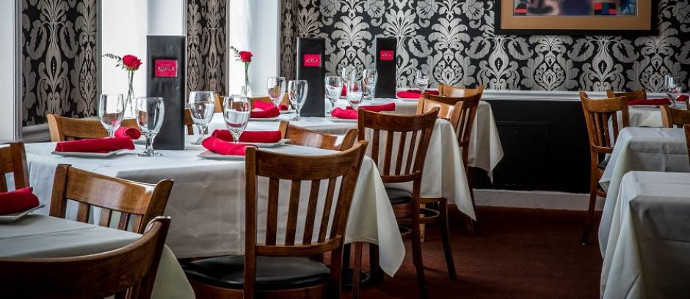 Sure, there's one day a year when it seems everyone heads out for a special night with a special someone. But we needn't all wait for Valentine's Day to woo over wine. Maybe it's an important first date, a special celebration, date night... or maybe you just really screwed up and need to make up for it. No matter-you can make all things right (or a whole lot better) at some of what we think are the best spots around Baltimore to drink with your date.

This tiny new bar on a side street in Locust Point is perfect for a special, yet laid back, night out. With Jason Ambrose of Salt at the helm, the kitchen puts out high quality, interesting apps like crispy buffalo sweetbreads, chimichurri beef tartare, oxtail stew and Korean fried chicken wings. Sandwiches are the stars of the mains, but a couple of entrees dot the menu as well. Cute, two-person booths line the wall, making the best of a very small space. The booths also offer a great vantage point from which to check out the impressive chalkboard lists of Scotch and Bourbon. (1157 Haubert St.; 443-449-5525)

This Persian spot is a pleasant surprise in its Little Italy location. While we always enjoy a date night with Italian food and wine, this pretty gem of a restaurant is a welcome addition to the neighborhood. We're in love with the loft dining area, the perfect spot to nosh on their Persian/Mediterranean cuisine, but the beautiful bar is an ideal place to either drink, dine or just stop by for desserts, like cheesecake and baklava. Oh, and speaking of baklava? Why eat dessert when you can drink it? We're fairly excited about their Baklava Martini, and we're pretty sure your date might be as well. (806 Stiles St.; 410-528-2710)

We love the sprawling view of the heart of Fell's Point from the tables in the lounge area of this Spanish tapas spot on the corner of Broadway and Thames. Share small plates and sip sangria (red, white or sparkling) while enjoying the waterfront view or the people watching. Cocktails from this romantic restaurant are nothing to sneeze at either, often featured on the locally run website
Let's Drink On
.
(814 S Broadway; 410-534-6262)
A brewery might not be your first thought for a cozy night together, but think again. This large tap room in Laurel features lots of communal tables and a ton of bar seats, but we absolutely can't get enough of the comfy weathered leather couches where you can settle in together to share flights of brews like a Chocolate Cherry Porter or Espresso Bourbon Stout, or heat things up with a pint of Welcome to Scoville Jalapeno IPA. Hungry? Nosh on fare from a number of local food trucks. On our most recent visit, Nikki McGowan parked her Madame BBQ food truck out front to feed hungry imbibers. (9445 Washington Blvd., N Laurel; 443-345-9699)
Sotto Sopra
Easily one of the very most romantic restaurants in all of Baltimore, Sotto Sopra's low lighting, soaring ceilings and elegant decor make it the epitome of date spots. Classic cocktails at the classy back bar or wine from their impressive list are our choices for drinks, and the menu is as impeccable as hopefully your date finds you to be. (405 N Charles St.; 410-625-0534)
Not only does Tapas Teatro have what we think might be one of the very best red sangrias in town, they are also situated right next to the Charles Theater, making for a perfect movie and a meal date. We particularly like sitting outside in the summer months. (1711 N Charles St.; 410-332-0110)

In the winter months, run - do not walk - to Brewer's Art to get yourself a fireside seat on the cozy couches on the upper level. However, if you're not lucky enough to get a sofa spot, you can still perch on a bar stool in the uber classy upstairs bar, or at the high tops by the enormous storefront style windows that overlook Charles Street. Feeling less fancy? Take your date downstairs to the pleasantly gritty basement bar where there are tons of little nooks with tables for an unexpectedly intimate atmosphere. (1106 N Charles St.; 410-547-6925)

Nestled in a community off of University Parkway, Ambassador Dining Room is a popular Indian cuisine mainstay in Charm City that is impossible to not fall in love with, particularly in the warmer months when outdoor seating is alongside a gorgeous garden. Service is impeccable at the white tablecloth restaurant, and the wine list is approachable and affordable.

While Ambassador is a classic in Baltimore, its new sister restaurant, Ananda, is a contemporary version in Howard County's Maple Lawn community, a quick drive from the city. A bright bar greets visitors while the dining area is low lit with warm hues of brown, orange, and red. While the restaurant boasts many romantic alcoves in which to dine, and eight fireplaces, our favorite spot is the small area off the bar with several leather chairs and a couch, all facing a warm fireplace flanked by bookshelves that make us feel like we're in our own personal home study (if we were lucky enough to have one). A wide coffee table makes dining and drinking easy while settled on the sofa. We highly recommend starting off with the Polo Smash cocktail. (Ambassador: 3811 Canterbury Rd.; 410-366-1484; Ananda: 7421 Maple Lawn Blvd., Fulton; 301-725-4800)

This upscale-casual, corner bar is a newer addition to Locust Point. Get there early and snag the sofa spot in the back, or the four top table just behind it, for the coziest experience. Knowledgeable bartenders craft creative cocktails and the food is all at once simple yet elevated. Cheese and charcuterie choices are top notch, and pressed panini sandwiches like the Cubano, Caprese, and Hot Tony are winners. We might have even poached our friend's Banh Mi leftovers after our last trip…. it's that good. (801 E Fort Ave.; 443-708-1675)

With one of the most expansive waterfront views (hence their name), this is one of the few upscale dining establishments in Fell's Point. With the involvement of Jerry Pellegrino, you can count on an excellent wine selection, and a recent visit revealed a renewed focus on quality cocktails. A self-proclaimed "seed-to-table" spot, the menu is seasonal and ranges from duck and chicken breast to bone marrow and a very adult take on mac and cheese. (1417 Thames St.; 443-681-5310)

Fork and Wrench
Hands down, this industrial-styled spot is one of our very favorites for cocktails in Canton. Constant creativity is at play behind the bar, and while the cocktail list is already extensive, knowledgeable bartenders, like Jay Calvert, can create whatever you may be in the mood for that night. Sure, you could sit in the dining room, but we particularly adore the high-backed, rounded seating style in the bar area for an intimate dining and drinking experience with a perfect view of the bar.
(2322 Boston St.; 443-759-9360)
Photo via Tapas Adela
Tags:
Beer
,
Cocktails
,
Dinner
,
Food
,
Spirits
,
Wine
Recent Articles

Feedback
How are we doing? Tell us what you like or don't like and how we can improve. We would love to hear your thoughts!