House of Cards Season 3 Features $750,000 Solid Gold Bottle of Vodka: Is It Real?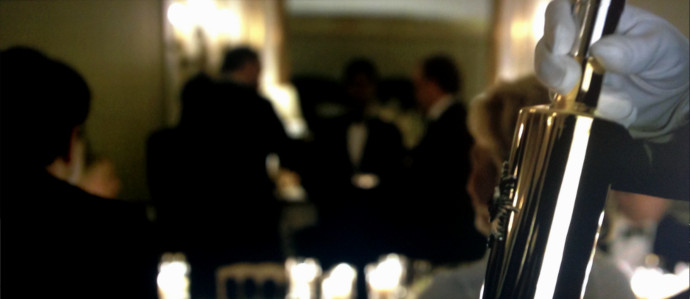 This article doesn't contain any spoilers, but it does contain some minor details of Season 3, Chapter 29.
In this season of Netflix's Emmy-winning show, House of Cards, Frank and Claire Underwood have their feet firmly planted in the White House, but they're squaring off against bigger and more cunning enemies, the stakes are even higher and the effects of their interactions have repercussions that can echo across the globe. One such adversary is President Victor Petrov, the show's version of Russian President, Vladimir Putin. President Underwood invites President Petrov to the White House for a summit to discuss a compromise regarding the placement of military troops in Israel. The men square off verbally at first, but then during a state dinner things take an interesting turn, and we get a glimpse of a Russian drinking ritual.
President Petrov presents a series of bottles of a vodka called, Obosaya Sayanska (one of the "best vodkas" in the world), as a gift to President Underwood. The bottles are encased in solid gold, and one guest whispers to Secretary of State Durant that each bottle is valued at $750,000. This particular vodka is not real we're afraid. But the vodka featured on the show appears to be inspired by Russo-Baltique, one of the world's most expensive vodkas, but not THE most expensive. That title goes to Billionaire Vodka, which goes for about $3.7 million per bottle.
Obosaya Sayanska takes some creative cues from a commemorative bottle of vodka that was created by combat car maker, Dartz Motorz, in collaboration with Princess Regina Abdurazakova of Kazakhstan, to appeal to the very rich. One iteration of Russo-Baltique comes encased in a 20-pound, solid gold bottle, just like Obosaya Sayanska. The latest bottles of Russo-Baltique are inspired by the design of the radiator guard on a vintage car by Dartz and comes encased in bulletproof glass. That iteration is valued at $1.35 million per bottle.
Photo via Netfilx
Tags:
Spirits
Recent Articles

Feedback
How are we doing? Tell us what you like or don't like and how we can improve. We would love to hear your thoughts!