A Guide to Drinking Like Russians as Taught to Us by House of Cards Season 3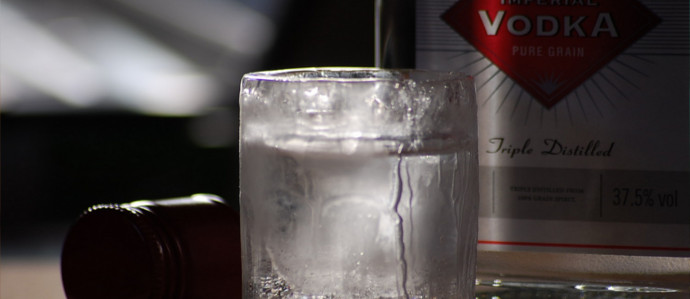 This post doesn't contain any spoilers for House of Cards, but does include a couple minor details of Season 3, Chapter 29.
The political power couple of Frank and Claire Underwood have returned to small screens everywhere with the debut of season three of Netflix's Emmy-winning House of Cards.
In one particular episode, President Underwood is taught to drink like a Russian by President Victor Petrov. President Petrov is at the White House to discuss military compromises, but things get a little less hostile after solid gold bottles of vodka are presented that are reportedly worth about $750,000 each.
After the bottles are presented at the table, President Petrov leads the guests through a series of toasts and shots done the traditional Russian way:
A short toast is made.

Drink!

Sniff the bread.

Say, "Nu" ("So"), then whistle.

Exhale loudly, sniff your shirt sleeve.

Eat the pickle.

Repeat the ritual 2 or 3 more times and then take a break.
So what is the deal with the toast and pickles or zakuski (snacks)? Turns out they have a very clear purpose; To prevent you from getting totally plastered while going through the motions of this drinking ritual. Apparently, sniffing the bread is a surprisingly effective way of soaking up alcohol, and the acid and salt in the pickle act as alcohol neutralizers. Eating while drinking is always a good idea, and the Russians have cleverly incorporated it into their drinking ritual.

The following morning, Seth suggests that President Underwood consume a raw egg with tomato juice as a hangover cure. Russians do it the opposite way. Before they start drinking, they might drink one or two raw eggs, and apparently it helps them make it through one whole bottle of vodka without getting totally wasted.
In order to truly drink like Russians, it is tantamount to stick to strictly vodka during your night and take it as shots, don't sip. This ritual is always done in the company of friends or family, never alone, and, of course, EAT in between each shot. A toast to House of Cards for teaching us how to properly drink like Russians!
Photo via Flickr
Tags:
Spirits
Recent Articles

Feedback
How are we doing? Tell us what you like or don't like and how we can improve. We would love to hear your thoughts!