Getting to Know Baltimore's First Meadery, Charm City Meadworks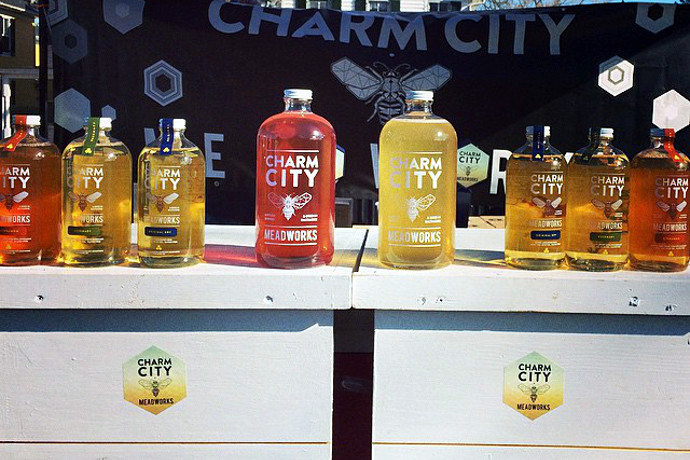 Armed with the intent of doing a little day drinking but also trying something new, we here at Drink Baltimore took a recent trip to Baltimore's first commercial meadery for a little tasting and learning about the honey-based beverage.
Housed in an otherwise industrial area in Curtis Bay, the modest Charm City Meadworks is a deceptively small operation (given the prominence of their mead around town) in what can only be described as a garage, but in the most charming of ways. Upon approach, we found a few guys playing the Meadworks-provided cornhole, and inside, a small tasting table with the friendliest of regulars and volunteer pourers.
Draft and bottled varieties of mead are available for tastings, by-the-glass-pours and purchase. We settled in on stools aside the 300-gallon fermenters to taste test our way through both the draft and bottled varieties.
At 6-9% ABV, drafts are a little lighter and more effervescent than bottled options. We instantly fell in love with the Wildflower, a citrusy and sparkly concoction, but equally loved the herbal Basil Lemongrass. Elderberry, similar to a rosé wine, was light and refreshing while the Shade Tree, aged in a bourbon barrel was incredibly smooth.
Bottled varieties are a bit boozier at 12% ABV, closer to a typical wine, and lack the effervescence of the draft, though we detected a bit of secondary fermentation in a few that had some bubbles. Regardless, we enjoyed the less bubbly versions just as much.
The Original Dry is exactly as advertised. Dry with a somewhat rich mouthfeel, it epitomizes what we'd expect a mead to be. Rosemary was a surprise in that one of our companions, who typically dislikes the herb, enjoyed the way that the flavor mingled with the honey in a way that didn't overpower the mead. The Cinnamon had a highly pronounced flavor that we could see marrying nicely with a night around a bonfire. Tending almost to the side of sour (as in, sour beer lovers, you'll dig on this), Strawberry Ginger was tart, but still smooth.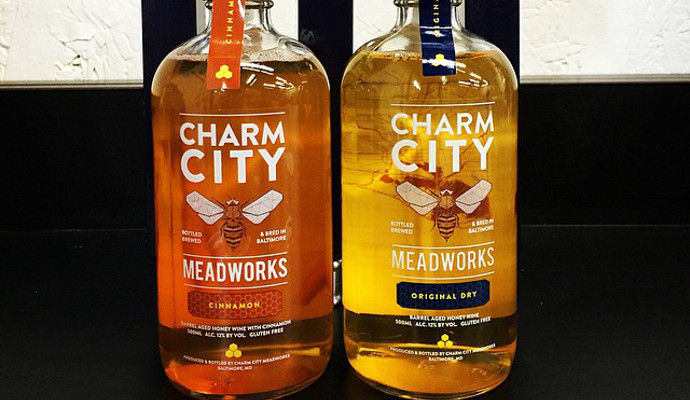 Enthusiastic volunteers, Jenny and Ken, were able to answer our questions with authority from informing us about the glycol system used to cool the fermenters to the fermentation temperature (in the 70's - close to an ale). In keeping with the local trend of sustainability and "farm-to-table" (or in this case, farm-to-glass), the majority of ingredients are sourced locally, sometimes even from the gardens of friends and family.
In a later conversation with one of the owners, James Boicourt, we were excited to learn that there are some upcoming upgrades and changes as well. While the operation doesn't currently serve food, there are plans to enlist a food truck or two to sell snacks for tasters, and possibly some music on the horizon as well.
And while we have to be a little hush-hush on some other upcoming plans in the works, we are allowed to at least hint that there might be an interesting alternative bottling plan on the way (think no-glass solution) and possibly a summer celebration worth putting on the calendar when the (potential) date is released. More on that later.
Meanwhile, while we absolutely loved the ambiance of hanging in our best mead maker friend's garage, we were wondering if the increasing popularity might cause the spot to become overcrowded. Boicourt allayed our fears of not being able to sidle up to a tasting table.
"We are already in talks to move," he says. But where?
Boicourt assures us he and his business partner, Andrew Geffken, intend to remain in Baltimore. "I like Baltimore a lot. I live here, I want to keep my business here. And, after all, we are Charm City Meadworks." Cheers to that!
In the meantime, visit Charm City Meadworks' cozy and fun tasting room on Fridays from 5–9 PM and Saturdays from 1–5 PM.
Also, find Charm City mead at local farmers markets and other local beer and wine events.
Charm City Meadworks, 3511 8th Ave.; 610-724-1981
Photos via Charm City Meadworks
Tags:
Cocktails
,
Spirits
,
Wine
Recent Articles

Feedback
How are we doing? Tell us what you like or don't like and how we can improve. We would love to hear your thoughts!