An Education in Japanese Whisky with Tiffany Dawn Soto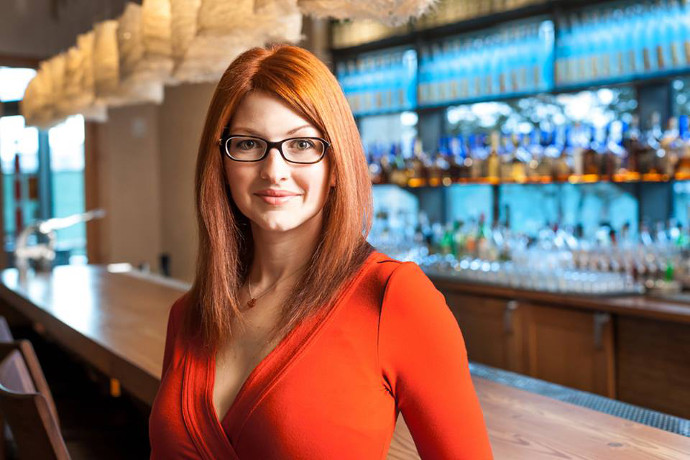 While we've experienced plenty of whiskey tastings, Japanese whisky still remains a bit elusive in Baltimore, and the opportunity for education about it is even harder to find. So, on a Sunday afternoon whim we recently popped into
Azumi
when we heard about
Tiffany Dawn Soto
's Japanese whisky class, housed in the classy waterfront restaurant's serene, enclosed private room, for a little education and some upscale Sunday Funday sipping.
Now, we didn't know this when we walked in, but Soto is a bit of a connoisseur when it comes to beverages, and Japanese beverages in particular. And when we say "a bit" we mean full-on top-notch expert. Soto was trained in wine education by the Court of Master Sommeliers and trained in Sake at World Sake by the Sake Education Council at the Niigata Sake Research Institute. There are few in the United States who can claim the amount of education Soto has about sake, and even fewer with the amount of certifications she has. Her Japanese whisky knowledge is just as impressive.

An intimate-sized group of about a half dozen of us settled in behind our four glasses (later to be filled with tasting portions) and sipped on a balanced whisky cocktail while Soto kicked off the event.

What started off in the standard fashion of a tasting, with a brief personal introduction and overview, quickly transformed into one of the most entertaining and interesting liquor education events we've had the pleasure of attending. Background information on Japanese whisky's infancy, in-depth knowledge about Japan itself (from Soto's many visits), and anecdotal information about the cocktail scene in the country was fascinating on its own, but the enthusiasm Soto infused into her storytelling was contagious. We couldn't help but get equally excited about the whisky knowledge she was providing and trying said whisky, of course.

During the hour or so that we spent learning and sipping, Soto shared interesting historical details - like the tumultuous background of Masataka Taketsuru and his efforts to distill whisky in the style he had learned during his time in Scotland, including his apple-juice-company front business - but she also sprinkled in plenty of trivia-night worthy tidbits like the fact that Japanese whisky may owe much of its skyrocketed popularity in the United States to Hollywood via Bill Murray's Lost in Translation, which can be likened to the contrary way that Merlot's demise was caused by Paul Giamatti's character's despise of the wine in Sideways.

As tastings go, the group became friendly and as the class wound to an end, we all (including Tiffany) migrated to the lounge area for a round of drinks, more whisky talk, and some social banter.

Soto doesn't just do classes for restaurants. She also hosts tastings at museums, events for businesses and convention groups, and even hosts events at people's homes. While she is best known for Japanese beverages, she's trained in wine as well.

Some of her upcoming events are:
October 8, 7–9 PM
Maryland Science Center (601 Light St.; 410-685-2370)
$60 per person

November 22
Azumi (725 Aliceanna St.; 443-220-0477)
$70 per person including bites from Chef Taka

To check out her background, other upcoming events, and Sake safaris, check out her website at
sake2you.com
.
Photo via sake2you.com
Tags:
Cocktails
,
Spirits
,
Whisky
Recent Articles

Feedback
How are we doing? Tell us what you like or don't like and how we can improve. We would love to hear your thoughts!