Where to Raise a Glass to Friends and Family on Thanksgiving in Baltimore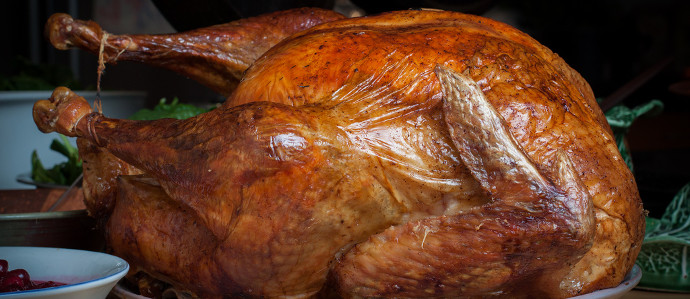 Wait, what? Is it really holiday time already? Our Sirius radio already has the carols playing on two channels, and we've been visually accosted by trees and wreaths since the day after Halloween in every retail establishment.
Well, if you can't beat 'em, join 'em, right? No. If you can't beat 'em, have a few drinks and forget the holiday insanity.
Back in the day (like, only a decade or so ago), Thanksgiving was the kick-off to the holiday season. In the spirit of the holiday, we are holding strongly to that tradition with a list of the top ten places to hunker down, drink up, and avoid Aunt Martha while still celebrating the nation's first chance to indulge in the fruits of its new citizens' hard labor in 1621. Indulge away, readers.

Alizee
If you're feeling like you want your Thanksgiving to be as removed from family as what Reese Witherspoon and Vince Vaughn initially envisioned for their December holiday in Four Christmases, Alizee is a perfect hideaway on Thanksgiving. Tell the in-laws that you're stuck on some sort of really important can't-get-out-of-it thing and then hunker down at this cozy out-of-the-way spot, set back away in the hotel and away from windows making it highly unlikely you'll be spotted swilling suds. Breathe a sigh of Thanksgiving gratitude (or relief), and let the wine flow from their extensive list. Seatings for a Thanksgiving meal start at 11:30 AM, but it should be easy enough to just sidle up to the bar and be thankful for their stellar wine list and a few televisions to watch the games. (4 W University Pkwy.; 443-449-6200)

Blue Hill Tavern
Is there a more appropriate place than Baltimore's Brewer's Hill to drink away the day, Thanksgiving or otherwise? We think not. Settle in at Blue Hill's expansive bar and forgo pumpkin pie in favor of their decadent Peanut Butter Candy Bar (peanut butter shortbread, caramel, pretzel, and marshmallow fluff) paired with any number of high quality wines and creative cocktails. There's also a three-course prix-fixe meal available featuring some of their most popular dishes as well as a Thanksgiving plate, for $39.99. (938 S Conkling St.; 443-388-9363)

The Capital Grille
If your year has been going well enough that you are ready to throw down cash at the reputable CG on Thanksgiving, then you have plenty to be thankful for, indeed. Raise your glass of high-end wine, or your fashionable cocktail, as a salute to all you're grateful for while noshing on the $36 turkey entree… or slicing into some well-deserved steak. (500 E Pratt St.; 443-703-4064)

Jimmy's Famous Seafood
Historical accounts suggest that the Pilgrims and Native Americans dined on a fair amount of seafood on the first Thanksgiving. Who are you to argue with tradition? Stop by Jimmy's for the holiday and dine on their Thanksgiving menu or dig into any of their top-notch seafood selections while sipping from their impressive wine, beer, and cocktail selection at the enormous bar bedecked with plenty of huge televisions to take in the football action. Heck, do Thanksgiving Baltimore-style - crack a dozen steamed crabs and wash them down with a few Natty Bohs while you're at it. (6526 Holabird Ave.; 410-633-4040)
Tags:
Beer
,
Cocktails
,
Dinner
,
Food
,
Holiday
,
Parties
,
Spirits
,
Wine
Recent Articles

Feedback
How are we doing? Tell us what you like or don't like and how we can improve. We would love to hear your thoughts!