Baltimore's Best Winter Cocktails to Warm You up From the Inside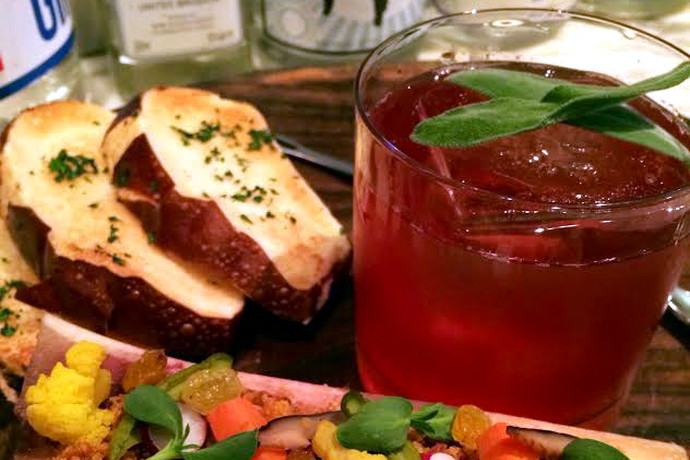 While much of December's weather left us still sipping some warmer weather beverages, it seems winter has finally descended on Baltimore and we are more than ready to hunker down with some cold-weather cocktails.

Thanks to some talented Baltimore bartenders (and a winery and distillery) willing to share their recipes, we were able to compile this handy list of libations you can find around town that are perfect for warming up from the inside out either at the bar, or while comfy on your couch.

Brendan Dorr, President of Baltimore Bartenders' Guild and Head Barman at B&O American Brasserie, is shaking and stirring these creative cold-weather concoctions this season. There's not one we wouldn't love to sip while watching snow fall, but the mixture of Papa's Pilar Aged Rum with Charm City Meadworks Cinnamon Mead has us thankful that the chill in the air has finally arrived.

Sip on the B'more Sour made with High West Campfire Whiskey, Lustau PX Sherry, cranberry syrup, lemon, and egg white, or choose something from the "Spice Box" selection. The Cinnamon mixes Papa's Pilar Aged Rum, Lustau Amontillado Sherry, Charm City Meadworks Cinnamon Mead, apricot cordial, lemon, and egg white, while the Clove brings together Becherovka, Glenfiddich 12 yr., Velvet Falernum, lemon, walnut bitters, and ginger beer for a delicious winter warmer. (2 N Charles St.; 443-692-6172)

Nick Ramey's winter-weather take on an old fashioned uses spiced apple cider and brown sugar-cinnamon syrup to infuse the flavors of the season into the classic cocktail. The Cold Fashioned also features Medley Brothers Bourbon and orange bitters. (1520 Clipper Rd.; 443-708-1934)

Though BoatHouse is a prime summer spot, the seasonal cocktails at the waterfront restaurant make it a little easier to get through the colder months. The Northern Lights Mulled Wine is served warm and mixes Merlot, Zeigler's Apple Cider, and Sugar Island Spiced Rum with honey, apple, orange, and an autumnal spice blend for a drink that is sure to keep you warm all night. Additional winter drinks at BoatHouse include the Bull in the Heather, with Old Forester Signature 100 Proof Bourbon, grade A dark maple syrup, fresh-squeezed lemon juice, and rosemary, and the Harvest Sangria made with Salmon Run Rosé, Taylor Fladgate Ruby Port, triple sec, cinnamon spice syrup, cranberries, apples. (2809 Boston St.; 410-773-9795)

Encantada

This new-ish restaurant at the American Visionary Arts Museum focuses on the use of fruits and vegetables in the kitchen as well as at the bar. The
Don't Shake My Apples
features Belle Meade Bourbon, mole bitters, fresh apple juice, a housemade salazon chocolate-cinnamon sugar cube, and completed with a graham cracker rim. (800 Key Hwy; 410-752-1000)

Nothing says winter like brown liquor. Nickel Taphouse dresses up a whiskey sour with the addition of the aperitif Aperol while adding depth with cinnamon and vanilla. This lovely winter sipper is dubbed the Jumping Jack Flash. (1604 Kelly Ave.; 443-869-6240)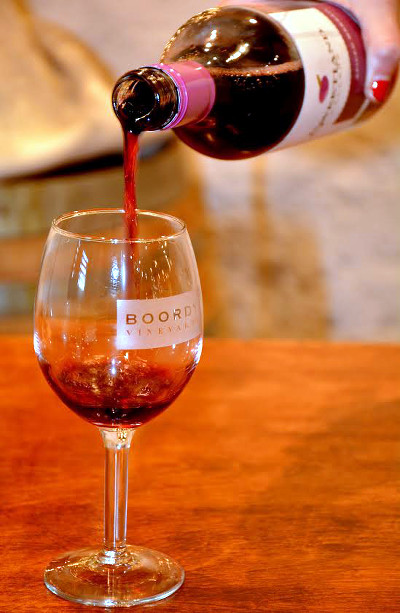 "
Spiced Wassail
is created through our old-fashioned, patient process of using hand-sewn spice bags to gradually infuse the red wine blend with natural ingredients like cloves, cinnamon and orange peel to evoke warm feelings of holiday nostalgia, " says Rob Deford, President of family-owned Boordy Vineyards. Boordy makes the process of preparing wassail easy with their bottled Spiced Wassail. Warm it quickly in a slow cooker or on the stove, and ladle into a mug or a thermos… we're not judging your to-go cups.
Dane Nakamura, bar director for Bryan Voltaggio's restaurants in Maryland, D.C., and Virginia, is known for his culinary-based bar program that mixes the usage of techniques typically used in the kitchen (e.g. sous vide preparation) with extensive knowledge of flavor profiles and mixology. These recipes are in-depth and perfect prepared in large formats to impress guests when entertaining. We also think they're an ideal way to while away the snow days we're looking forward to this season. Obviously, you could skip the work, and just visit Family Meal where you can hunker down with these, and some damn fine comfort food as well. If you'd rather DIY, Family Meal has provided a couple recipes for you to try at home. (621 E Pratt St.; 410-601-3242)

Breaking Sage
1.25 oz. sage mezcal
1.25 oz. dry sherry (recommended style: very astringent and nutty)
0.75 oz. cranberry syrup
1 bar spoon lime juice
2 bar spoons black pepper tincture

To prepare the Sage Mezcal:
1 cup packed with sage leaves
1 bottle mezcal

Sous vide at 63 degrees for 2 hours and let sit overnight, then strain. Author's Tip: If you do not have a sous vide setup at home, try setting your slow cooker to warm - not low - for the same time.

To prepare the Black Pepper Tincture:
2 tablespoons whole black pepper
3 tablespoons ground black pepper
1 cup water
1 lime cut into quarters

Bring to a boil, take off heat let steep for about 15 minutes, then strain.

To make the Breaking Sage, cool all ingredients, then mix as described above and serve over ice.

Hot Beer Flip
4 cups pilsner
1 cup coca cola
4 tablespoons light brown sugar
4 tablespoons horchata de morro powder
1 teaspoon ground ginger
1/4 teaspoon ground nutmeg
Eggs
Rum - anything a little funky and a bit darker than gold (Thomas Tew is used at Family Meal)

Combine pilsner, coca cola, light brown sugar, horchata, ground ginger, and nutmeg in a slow cooker set on low until mixture is hot.

Upon serving:
Crack one egg into a metal tin with handle, whip until smooth (about 15 seconds). Add 1 ounce of rum and whip for another 15 seconds until smooth. In a second handled tin pour 8 ounces of the hot beer mixture. IMPORTANT: Slowly stream the hot liquid into the tin with the egg mixture making sure not to let it curdle. Flip back and forth between the tins until frothy. Finally, pour into a glass of your choice and top with grated cinnamon.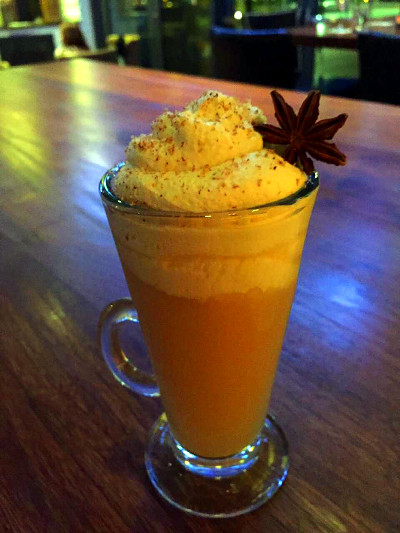 These cocktails, from Wit and Wisdom's head bartender Jonathan Levy, use some ingredients that might not be in your home bar… but maybe they should be? We are particularly excited about the use of amaro in the first recipe, in addition to its punny name. (200 International Dr.; 410-576-5800)

Mariah Sherry (All You Want For Christmas)
1 oz. Dry Sack Sherry
1 oz. Hardy VS Cognac
0.5 oz. Domaine de Canton
0.5 oz. Amaro Ramazotti
0.5 oz. Cinnamon Syrup
2 dash Fee Brother's Old Fashioned bitters
1 oz. Half and Half
1 whole egg

Combine all ingredients in a cocktail shaker and dry shake hard, then add ice and shake thoroughly. Double strain into a snifter and garnish with grated nutmeg.

Pecan Toddy
2 oz. House Pecan Cordial
4 oz. hot water

Preheat a glass with hot water, then dump the water. Pour the cordial and water into the glass and top with maple whipped cream. Garnish with grated nutmeg.
While you may only be able to try the Shot Tower Gin after a tour at Baltimore's newest distillery, if you happen to buy a bottle there, or at your local shop, this BWC Gin Mulled Cider recipe is a new take on an old favorite worth making at home.

Liquid Ingredients
1 gallon unpasteurized apple cider
1 cup Shot Tower Gin
1 cup Corbin Cash Barrel Reserve Sweet Potato Liqueur
1/2 cup Cynar Amaro
1/4 cup Apple Brandy

Dry Ingredients
3 cinnamon sticks
5 star anise pods
2 teaspoons cloves
1 teaspoon peppercorns
1/2 teaspoon dried chilli flakes
1/2 teaspoon darjeeling tea
brown sugar to taste
1 lemon
1 orange

Add all liquids to a slow cooker and set on high. Add all dry ingredients (save for brown sugar and fruit) into cheesecloth and tie shut. Add the sealed dry ingredients to the pot and let stand for 30 minutes on high. Taste and add brown sugar to your liking. Place slices of orange and lemon atop the hot liquid. Turn pot on medium-low setting, keep covered, and serve with ladle.

Breaking Sage photo (top) via Family Meal; Boordy Vineyards Spiced Wassail photo (middle) via planit; Pecan Toddy photo (bottom) via planit
Tags:
Cocktails
,
Spirits
Recent Articles

Feedback
How are we doing? Tell us what you like or don't like and how we can improve. We would love to hear your thoughts!