Try Rujero, Baltimore's New Bolivian Import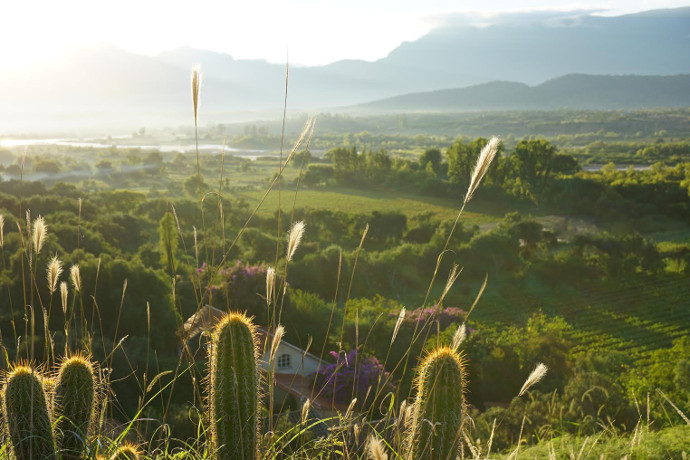 In mid-April, we were scouring the floor of this year's The Emporiyum in Baltimore, looking for the best new finds for our (and your) home bars. At the same time, Ramon Escobar, owner of Chufly Imports, was manning a booth with a Bolivian spirit, singani, about to be launched in Baltimore that week.
As we approached and he poured, he described the spirit: "If a fine tequila made love with a smooth pisco on a bed of rose petals, the love child would be Rujero singani."
Who isn't going to try that, right?
The smooth singani, light in color and with an ABV of 40%, is made from Muscat of Alexandria grapes. The nose is true to the flavor - floral and aromatic, but balanced. "What separates singani from other grape-based spirits like pisco, brandy or grappa is the extremely high elevation of the vineyards and distilleries in Bolivia. All singani must use Muscat of Alexandria grapes grown at over 5,250 feet above sea level, and the spirit must also be distilled at this elevation," says Escobar.
The significance of the elevation is twofold. First, the thinner atmosphere at extreme altitudes (Rujero's vineyards approach 6,900 feet above sea level) results in an increased intensity of sunlight that fundamentally changes the grapes by creating a thicker skin and peripheral vascular tissue layer. "Since many of the subtle aromas, flavors, and antioxidants of a grape are concentrated in these two layers, the resulting spirit is remarkably floral and complex — far more than if the grape were grown at traditional near-sea-level altitudes like Ica, Peru, for example — home to many piscos — which is situated at 1,300 feet above sea level," Escobar explains.
The second role that elevation plays is in the distillation process. As the altitude increases, the boiling temperature decreases, meaning that the distillation process for singani can be carried out at a lower temperature. That lower temperature allows for the retention of the subtle flavors and aromas that are a hallmark of singani. Similar to champagne and port, singani retains its tradition and uniqueness as a result of the government's establishment of a Domain of Origin and Geographical Indication, which regulates the specific valleys in which the grapes can be grown as well as the process of distillation in an effort to preserve the integrity of the centuries-old spirit.
While singani may be new to many in the US, Escobar has found that Bolivians often react with positivity and a sense of nostalgia upon finding it in the States — particularly with Rujero, which is possibly the most iconic, traditional, and well-known brand of singani in Bolivia.
Beyond the uniqueness of the spirit, the vineyard itself is notable. Among the oldest in Tarija, Bolivia and originally founded by Jesuits hundreds of years ago, the original grapevines and bodegas are still intact and utilized. The small-batch production of Rujero that is imported to the United States uses grapes from a few dozen of the centuries-old grapevines that were planted alongside peppercorn trees and were allowed to grow uninhibited over the centuries.
While the ownership of Rujero has changed over the years, there is a consistent focus on maintaining the traditions of the vineyard as well as supporting the local community. The Rujero master distiller has partnered with a metal craftsmen in Tarija to have their still handmade, in order to better meet the needs of distillation in higher elevation and also to avoid importing industrial-scale stills from outside the country.
Background details aside, the most important question is how best to enjoy it. Escobar recommends pouring singani over ice and enjoying it on its own, but if you want to mix it, he suggests using some citrusy sparkling sodas as mixers, like San Pellegrino sodas or Whole Foods varieties in Pink Grapefruit, Lemon, or Blood Orange. You can also check out Chufly's website for several cocktail suggestions.
"It's perfect for a summer BBQ because you just pick up two or three flavors of citrus sodas, put them on a table with a bucket of ice, a bottle of Rujero, and people can make their own cocktails to taste," he advises.
For now, distribution is somewhat limited in Baltimore with the brand new launch, but Escobar recommends checking Wine Underground, Canton Crossing, and Wine Source for a bottle to take home, while Bad Decisions is the best spot to get a Rujero cocktail to sip at the bar.
Photo via Ramon Escobar & Chufly Imports
Tags:
Spirits
Recent Articles

Feedback
How are we doing? Tell us what you like or don't like and how we can improve. We would love to hear your thoughts!