Baltimore Beer Week Guide: 16 Don't-Miss Events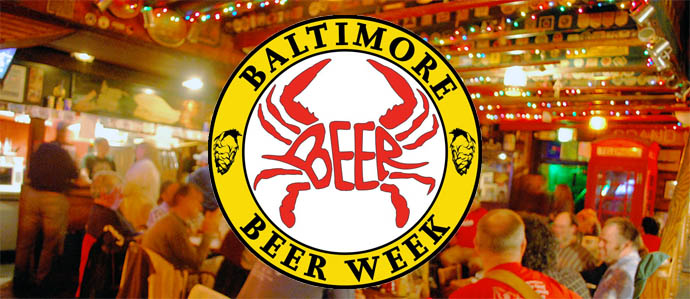 For 10 days in October, Baltimore beer lovers, brewers and brew-happy folks from around the region join together to celebrate the best of local craft beer. Baltimore Beer Week runs from October 19–28 and consists of events that range from giving a nod to the history of craft brewing in the Maryland area to exploring beer culture to providing the Charm City beverage-seeker with access to the newest and greatest from all our local breweries and brewpubs.

This year, there are over 300 events hosted at more than 70 venues all over the region, including Laurel, Bel Air, Hagerstown, Millersville, Columbia, Ellicott City and the Baltimore metro area. Check out our picks below for 16 don't-miss happenings during this fourth annual celebration of suds.

Friday, October 19

2012 Baltimore Beer Week Opening Tap Celebration, 6–9 PM
Power Plant Live! (20 Market Pl.; 410-727-5483)
Join Baltimore's beer aficionados for the 2012 BBW Opening Tap Celebration at Power Plant Live! to celebrate the official beginning of Baltimore Beer Week. Enjoy beer tasting, appetizers and music with your all inclusive $30 ticket. The ceremonial tapping by Baltimore's Best BEERtender of the "First Firkin" from Heavy Seas Beer will get the party started.

2nd Annual Tri-State Tap Takeover, 2 PM–close through Sunday, October 21
Hudson Street Stackhouse (2626 Hudson St.; 410-342-0592)
Three breweries, Dogfish Head, Heavy Seas & Troegs will have 12 drafts on tap, creating a Tri-State Takeover. Dogfish Head will have beers including 120, 90 & 60 min IPA, URKontinent, Punkin Ale, Ta Henket, Worldwide Stout, and Miles Davis' Bitches Brew. Heavy Seas will have Small Craft Warning, Loose Cannon, Red Sky at Night, Great'er Pumpkin, Marzen, Winter Storm, and more. Troegs will have Scratch 69, Mad Elf, Sunshine Pils, Nugget Nectar, Dead Reckoning, Perpetual IPA and more. This event goes on all weekend or until the beer runs out!

Saturday, October 20

The 9th Annual Chesapeake Real Ale Festival, 1–6 PM
Pratt Street Ale House (206 West Pratt St.; 410-244-8900)
The Real Ale Festival includes over 40 unique local, regional and international Cask Beers from over 20 breweries for $40 in advance or $50 at the door. There will also be food and live music from Black Falls and Rob Fahey. VIP tickets are $60 and include Q & A with brewery panel, exclusive casks, passed appetizers and hour early entry and .more

Oktobearfest, Noon–4PM
Maryland Zoo in Baltimore (Druid Hill Park; 410-396-7102)
Can you say Brew at the Zoo Redux? Sample the finest Fall Seasonals including various Oktoberfest & Pumpkin styles at Octobearfest from the following breweries: Spaten, Hofbrau, Leinenenkugel, Harpoon, Shiner, Tommy Knocker, Hop City & Local Favorites: Flying Dog, DuClaw & Brewer's Art. There will be 2 bands, Stein Hoisting contests, Frauleins, and a celebrity panel who will be judging and determining this years favorite Oktoberfest & Pumpkin offerings. Tickets can be purchased for $40 here.

Sunday, October 21

Duckpin Day!, 2–6 PM
Stoneleigh Lanes (6703 York Rd.; 410-377-8115)
Enjoy duckpin bowling and all-you-can-drink Union beer at Stoneleigh Lanes for $20. Tickets are required and will be available for purchase soon, but are limited. Special prizes will be awarded for top scorers.

Monday, October 22

Got Wood?, 7–10 PM
Brewer's Art (1106 N Charles St.; 410-547-6925)
If you are a beer geek and have WOOD on the brain, you won't want to miss this exclusive peek into the mind of New Belgium's Wood Beer Specialist, Eric Salazar. Tickets are limited for this rare beer and exquisite food experience. Head Chef Ray Kumm is sure to inspire your taste buds with his legendary food & beer pairings.

Tuesday, October 23

Guess Your Beer — Get Your Beer, 3 PM–close through Wednesday, October 24
The Americana (900 S. Kenwood Ave.; 443-708-8466)
Let's see how your knowledge of craft beer stacks up. Americana will be putting four new beers on tap for you to try with no tap handles and no names. If you are able to answer a series of questions about the beer, then you will get it for free. They promise to offer one that beer-drinkers should be able to get with no problems; two that you definitely need to know your craft beers and the last might stump a couple of people.

Wednesday, October 24

Dine Downtown Baltimore Beer and Urban Oyster Tasting, 5:30–7:30 PM
Center Plaza (120 W. Fayette St.; 410-244-1030)
In recognition of Baltimore Beer Week and in celebration of great dining options in Downtown Baltimore, Dine Downtown Baltimoreinvites you to a beer and urban oyster tasting. They will offer guests a sampling of 4-6 different beers including Ozzy Ale Brewer's Art; Duckpin Pale Ale and Balt Altbier from Union Craft Brewing; Heavy Seas Loose Cannon, and 3 different Maryland Oysters to pair with the beer.

Poe Play at Center Stage Sponsored by Raven Beer, 8 PM
Center Stage (700 N Calvert St.; 410-332-0033)
Raven Beer has teamed up with Center Stage to present Stephen Thorne's "The Completely Fictional—Utterly True—Final Strange Tale of Edgar Allan Poe". The Raven and, if available, the Edgar Allan Poe series of beers will also be served. Directed by Curt Columbus this hilarious-yet-enchanting new play spins a tale of the mysterious final days of Baltimore's emblem of oddness, Eddie Poe. Tickets range from $26.50–$53.50 and can be purchased here.

Thursday, October 25

Women of Beer, 6–8 PM
Heavy Seas Beer (4615 Hollins Ferry Rd. Halenthorpe, MD; 410-247-7822)
Join the women of the Baltimore beer industry at Heavy Seas Beer, for an evening of craft beer, food pairings, and socializing with other lady beer enthusiasts. Your all inclusive $20 ticket includes beer sampling, food, a tour of the brewery and a souvenir pint glass. All courses will be paired with beer and introduced by Chef Mick T Pirate of Whiskey Island. This is a casual evening, not a seated beer dinner.

Baltimore Beer: A Satisfying History of Charm City Brewing, 6:30–9 PM
Enoch Pratt Free Library (400 Cathedral St.; 410-396-5430)
Rob Kasper, former Baltimore Sun reporter and columnist, has produced a hoppy, refreshing account of the history of brewing in Baltimore, from ancient craft brewers in the 18th century, through the beer wars of the Victorian era, to mass production in the 20th century, then back to craft brewers in the 21st.

Friday, October 26

Chilibrew VI, 7–10 PM
2640 Space (2640 Saint Paul St.)
Brought to you by the BaltiBrew Homebrew club, the Charitably Charmin' ChiliBrew is an informal, semiannual charity homebrew competition and chili cookoff. A $15 donation is suggested at the door which gets you a ballot to vote on any or all of the competitions (chili con carne, veggie chili, and homebrew). If you are interested in submitting a chili or home brew for consideration check out the website for details.

Saturday, October 27

The Annapolis Craft Beer and Music Festival, 1–6 PM; Noon entry for VIP
Navy-Marine Corps Stadium (550 Taylor Ave. Annapolis, MD; 410 263-4012)
The Annapolis Craft Beer and Music Festival is the premier event in the state's capital where you can combine the best of all worlds: sample beer from regional and national craft breweries, listen to music all day long, enjoy fine cuisine, and attend educational seminars on topics from craft beer 101 to cooking with craft beer. Tickets are $30 or $40 for VIP and can be purchased here.

Meet One of Maryland's Newest Brewers, 7–11 PM
Metropolitan (902 S Charles St.; 410-234-0235)
Try the beers and meet the staff from one of Maryland's newest breweries, Burley Oak from Berlin, Maryland.

Halloween Party @ The Brewery, 8 PM
Union Craft Brewing (1700-D Union Ave.)
Costume up and come down to Union brewery for an all out Halloween rager with exclusive UCB beers, DJ Daniel Biltmore of MSSL CMMND, costume contests & more. Tickets will be available for sale soon for $18 and includes your first pint of beer.

Sunday, October 28

A Bar on Every Corner II - Historical Walking Pub Tour, 3–7 PM
Elliott's Pour House (3728 Hudson St.; 410-276-2200)
Join some Baltimore beer mainstays including former Baltimore Sun reporter and columnist, Rob Kasper (author of Baltimore Beer: A Satisfying History of Charm City Brewing), Joe Gold from Heavy Seas and Dominic Cantalupo, co-founders of Baltimore Beer Week, as they lead you on a history filled tour through Baltimore's famous Brewer's Hill neighborhood. The event ends at Of Love and Regret with a tasty buffet and ample beer sampling of Stillwater Artisanal Ales. To purchase $40 tickets, pay in cash or check made payable to Baltimore Beer Week at OLAR and RSVP to sponsors@baltimorebeerweek.com or call 410-963-5466, there is a 50 person limit.
Tags:
Beer Week
Recent Articles

Feedback
How are we doing? Tell us what you like or don't like and how we can improve. We would love to hear your thoughts!