Where to Sip with Dear Old Dad on Father's Day
by
Jennifer Waldera
on Jun 9, 2014 in
Roundups
for
Alewife
,
Birds of a Feather
,
Cat's Eye Pub
,
Fork & Wrench
,
Heavy Seas Alehouse
,
Henninger's
,
Kooper's Tavern
,
Max's Taphouse
,
One-Eyed Mike's
,
Slainte Irish Pub
,
Wit & Wisdom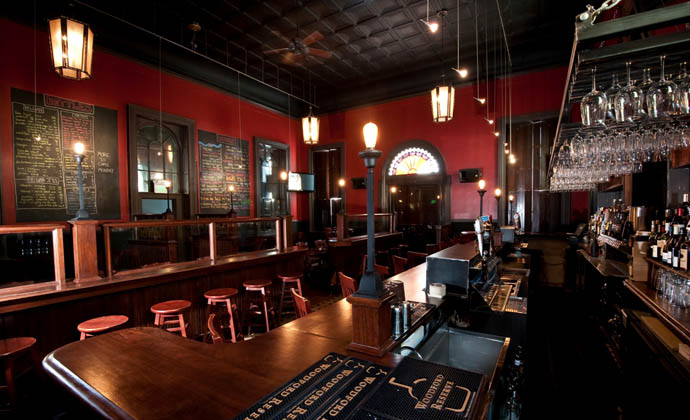 Forget about that "World's Best Dad" mug, or the trillionth tie to add to his collection, and instead give dad what he really wants for Father's Day — a drink. Oh, and time with you, of course.

Surely, there are a ton of places to go for a drink in Charm City, but drinking with Dad on his special day of the year demands the best. Check out some of our picks for the top places to sip with dear old Dad.

Heavy Seas Alehouse (1300 Bank St.; 410-753-1403)
What would Dad like to enjoy on Father's Day? A few craft beers, naturally. But not only does Heavy Seas serve their well known regular offerings and seasonal options on tap, their creative bartenders also mix up some innovative beer cocktails like the Musket Ball, an enticing blend of Bulleit Bourbon, Bulleit Rye Whiskey, house-made Gold Ale syrup, lemon juice,and black walnut bitters. Or, embrace Heavy Seas' pirate theme a little more by indulging in any of nine high quality rum choices they have on hand, either individually or as flights. Top it all off with the opportunity for Dad to win a tailgating grill in the 2 p.m. Father's Day drawing, and this is the perfect place to toss back a few with Pops.
Henninger's (1812 Bank St.; 410-342-2172)
This treasure of a tavern located in Upper Fell's Point is a comfortable place to enjoy a cold beer as easily as a well crafted cocktail. A step into Henninger's is a trip to the 40's with vintage black and white photos and pictures of burlesque women bedecking the wall along with World War II memorabilia. This cozy bar is just the place to really relax with Dad. Don't forget to line your belly with a selection from their seafood heavy bar menu or a creative dish from their appetizer menu like rabbit sausage and polenta.
Fork and Wrench (2322 Boston St.; 443-759-9360)
If Dad's a cocktail aficionado in touch with all the newest trends, or he enjoys the kind of bar service that creates new cocktails on a whim at drinkers' requests, this is the place for him. With top notch bartenders and a wide array of wine, beer, and liquor (with house infused options and in house barrel aged cocktails often available), this upscale bar with industrial inspired decor has received kudos from publications around town and beyond for both the kitchen and the bar. This is the kind of place where Dad can enjoy anything from a tasteful glass of wine to a trendy Pickleback, and any other liquid goodness in between.
Max's Taphouse (737 Bdwy; 410-675-6297)
With over 100 beers on tap and over a thousand by the bottle, you and Dad can sample your way through, quite possibly, the very most impressively large beer list in town. Sit at the long bar downstairs and watch the O's or any number of other sporting events being televised on their large flat screens, grab a table, play some pool, or pop upstairs for a relaxed seat in leather chairs next to a window with a pretty spectacular bird's eye view of the heart of Fell's Point.
Oriole Park at Camden Yards (333 West Camden St.; 410-685-9800)
Could there be any better place to enjoy the day with Dad than at a ballgame? Take in the 1:35 p.m. game against the Blue Jays and enjoy one of the many craft beers now offered at the ballpark. Local craft brewers like Evolution, Flying Dog, Dogfish Head, Old Dominion, and Fordham are represented at various kiosks around the stadium alongside old favorites like Stella Artois or Natty Boh. Be one of the first 20,000 to arrive and Dad gets a a Father's Day present from the O's too - a very Baltimore-style orange, black, and white fedora.
Alewife (21 N Eutaw St.; 410-545-5112)
Pouring over forty rotating draughts daily, Alewife has the lock on beer service in this pocket of Charm City. The vintage style cocktail drinks reflect the same retro ambiance as the decor. While we can't imagine anyone turning down the BB Jack, (pikesville rye, organic maple liqueur, peychaud's bitters) we bet that if Dad is a bacon lover, the Bacon Bloody Bryan is going to be right up his alley. Bonus: If Dad is a theatre goer, Alewife is situated just across the street from both the Hippodrome and Everyman Theatre.
One Eyed Mike's (708 South Bond St.; 410-327-0445)
The very first Grand Marnier bar in the United States, and one of the top sellers in the world of the popular cognac liqueur distilled with essence of bitter orange, One Eyed Mike's is a unique spot to enjoy the day with Dad. Get friendly with the locals in the charming bar area or grab an outside table on the back patio, hidden away from the street noise and blessed with a roll away ceiling that can be used when the temperature is nice enough to be outside, but the clouds are threatening otherwise. Enjoy your Grand Marnier straight up, or in one of the many riffs they have such as the Perfect Storm, a transformation of the iconic Dark and Stormy, but with a substitution of Grand Marnier instead of rum. Some beer offerings change seasonally with local breweries well represented, and the wine list has a pleasant array of choices by the glass to meet any Dad's taste. Hey, maybe Dad will decide to join the Grand Marnier club and let you have a shot from his brand new bottle.
Kooper's Tavern (1702 Thames St.; 410-563-5423)
Instead of grilling burgers and drinking beers at home, take Dad out for those brews and maybe indulge in one of Baltimore's best burgers at Kooper's. This two story waterfront restaurant features a bar on each level and prides itself on its "extensive" selection of beer and wine. This is the kind of Fell's Point bar that even Mom will approve as a hangout on Dad's day.
Cat's Eye Pub (1730 Thames St.; 410-276-9866)
Boasting live music every day of the year and 32 draughts, Cat's Eye Pub is one of the most popular local music venues in Fell's Point. On the waterfront, this comfy bar pours a wide variety of quality brews and mixes any cocktail you can dream. While the pub attracts a variety of musicians, Blues is certainly a favorite here, and will be the genre of choice on the afternoon of Father's Day.
Birds of a Feather (1712 Aliceanna St.; 410-675-8466)
If Dad likes whisky, this is the place for him. Pouring 120 different brands of single malt scotch whisky, this homey Fell's Point mainstay is a favorite for whisky lovers. With a pleasantly subdued atmosphere, Birds of a Feather is the bar to visit if you want to have a solid conversation with Dad… or if you just want to both pensively enjoy your whisky.
Wit & Wisdom (200 International Circle; 410-576-5800)
Sundays are half priced wine days at Wit and Wisdom, so if your dad is a lover of classy ambiance and quality wine, you can look like a champion by treating him to some of the finest of both. Located in the Four Seasons, Wit and Wisdom has a beautiful bar area, table seating, or lounge style couch seating as well. If it's a beautiful day, slip outside to Wit on the Water, their waterfront outdoor dining space that features enviable views of the water, spacious tables with umbrellas surrounded by low couches, and even flat screen televisions. Beers and cocktails are plentiful as well, and their small plates are perfect to nosh on while sipping.
Slainte (1700 Thames St.; 410-563-6600)
Is Dad one of the many who has been counting down to World Cup 2014 since Spain defeated Netherlands in Johannesburg? If so, Slainte is the place to take your soccer loving father on his day of celebration, only three days in to the popular tournament. Three games are being played on Father's Day, beginning mid-day, so hit up this popular Irish bar on Fell's Point's waterfront for a Guinness or one of their incredible bloody marys. Better yet, enjoy the specials that they have for the games including $3 Heineken and Heineken Light, Amstel Light, Newcastle Brown Ale or Strongbow Cider, or grab a whole bucket of Heineken for $14. Meanwhile, since the games are in Brazil, Slainte is also offering a special on Leblon Cachaca cocktails at $5. Enjoy a caipirinha (Brazil's national drink made with cachaca), take in some international soccer matches, and enjoy the day with Dad - sounds like a win to us.
Photo: Alewife
Tags:
Beer
,
Bourbon
,
Cocktails
,
Dinner
,
Food
,
Holiday
,
Music
,
Outdoor Seating
,
Spirits
,
Whiskey
,
Wine
Recent Articles

Feedback
How are we doing? Tell us what you like or don't like and how we can improve. We would love to hear your thoughts!